The Issue Is: Coronavirus
LOS ANGELES - Since last Friday, the number of Americans who have tested positive for COVID-19 has skyrocketed from roughly 2,200 cases, to over 20,000. As countries shut their borders and order citizens to shelter in place, the number of cases worldwide has exceeded 250,000.
This week, Elex Michaelson will continue to dive into various angles of the pandemic, discussing the medical, psychological, and economic impacts of the virus.
----------
We kick things off with Dr. Paul Song. Song, the husband of journalist Lisa Ling, is a radiation oncologist and healthcare activist, advising on insurance policy, clinical trials, and Medicare for All.
As testing becomes more widely available, and, in turn, the number of confirmed cases skyrockets, Dr. Song discussed a potentially hopeful development, a study out of France that found a combination of hydroxychloroquine and zithromax had cured patients with coronavirus, eliminating the viral load in just six days.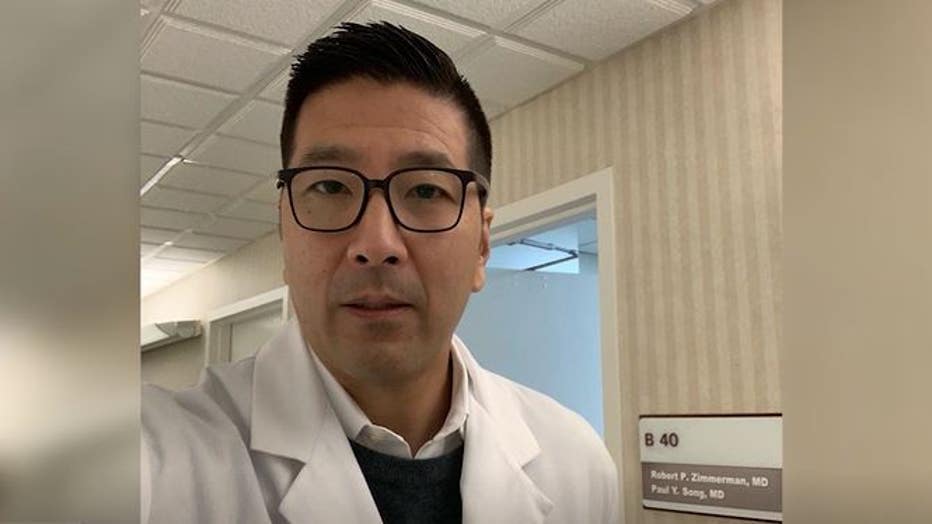 "A lot of people are walking around, shedding viruses unknowingly, and if you can eliminate this from the body in such a short period of time, then the potential to infect others is greatly diminished, not to mention the recovery period for patients," Song said. "So while the date is very preliminary, it is extremely, extremely compelling, and very hopeful."
From France, Song turned his attention to South Korea and Italy, examples of the best and worst case scenarios in dealing with the pandemic.
Song said South Korea set up a pandemic task force in 2015 following the MERS outbreak. In 2020, Song said the nation mobilized quickly, implementing testing early, and allowing them to get a hand on things, unlike Italy, which started testing their older population too late.
Song also addressed concerns back at home that the language being used by President Trump is fomenting racism against Asian-Americans, namely the use of the term "Chinese Virus," or the alleged use of the term "Kung Flu" by an unnamed White House staffer.
"More people have died of Coronavirus in Italy, than they have now in China," Song said. "So, I think to label it as one entity, to assign a boogeyman, is not helping."
----------
This week, the Dow lost nearly 4,000 points. Business across the country deemed non-essential were closed as millions were ordered to stay home. In California, one of the harder hit industries was the entertainment business, which has seen theaters close, late night hosts broadcasting from their homes, and countless productions shut down.
To discuss the impact on Hollywood and more, Elex is joined by TMZ founder Harvey Levin to talk about the unprecedented nature of the moment.
The conversation began with a talk of how perceptions of the crisis changed once Tom Hanks announced his positive diagnosis.
Levin said that while Tom Hanks may have put a different face on the crisis, one public figure that has been the most important throughout everything has been Dr. Anthony Fauci, Director of the NIAID, who he says has had an enormous impact in connecting to the public.
Levin also pointed to New York Governor Andrew Cuomo as another leader who has emerged during this crisis.
"I think, if things got reset, and people could now start over and make a decision on who they want as the Democratic nominee, and this is no shade on Joe Biden... I think they'd pick Andrew Cuomo," Levin said. "He's a big guy, because he's Governor of New York, but I think he's become a national superstar."
Levin also discussed the long-term impact of the pandemic on the industry, saying Hollywood was already on the precipice of change, but the pandemic is speeding that change along. He wondered whether advertisers would have the money to advertise their new properties once this crisis is over, meaning streamers and networks will need to find new revenue streams, or ways to reinvigorate olded ones.
----------
We wrap things up with Dr. Michael Gervais, a high performance psychologist, co-founder of Compete to Create, and host of the "Finding Mastery" podcast.
This, as millions of Americans, especially those in New York, Illinois, and California, find themselves quarantined, and ordered to stay home, their emotions running high, whether those emotions are crippling anxiety or severe boredom.
"If we can feel our body, and where we feel the stress, the response is deep breathing," Gervais said of dealing with the stress and anxiety. "As mechanical as that sounds, as simple as that sounds, a long exhale sends a very strong signal to the brain to calm down, to relax - we're safe."
In addition to heavy breathing, Gervais said changing your thought process can produce a huge change, as change all starts with being aware of your own personal needs.
But stress isn't the only emotion gripping millions right now, so are loneliness and boredom.
"Immunity and social belonging are tightly linked," Gervais said. "Being with other people helps our immune system, but we don't get access to that right now, so we need to use our technology to be sure that we're staying in touch with people we love."
He suggested Americans offer words of encouragement to their loved ones and that they say things they normally can't because of the pace and rhythm of modern life.
But it's not only the relationships with older relatives, there are also the changing dynamics of families who now have kids out of school and at home. So how can families deal with that new reality?
"Create a scale," Gervais said. "Everyone has their own scale, and every morning you wake up and say 'what number do you have,' and that just helps calibrate where people are, and with that very simple, practical tool, you can say 'if I'm at a 75, and my partner or child is at a 30... I know I have to pick up some pieces here...' it's a nice little calibration tool."
Gervais ended by reminding viewers about five key methods for dealing with recovery in this stressful and unprecedented time:
-- Sleep Well
-- Eat and Hydrate Well
-- Move Well
-- Think Well
-- Laugh Well  
The Issue Is: with Elex Michaelson is California's only statewide political show. For airtimes and more information, go to TheIssueIsShow.com.