Being a fan of the Los Angeles Lakers is expensive: here's why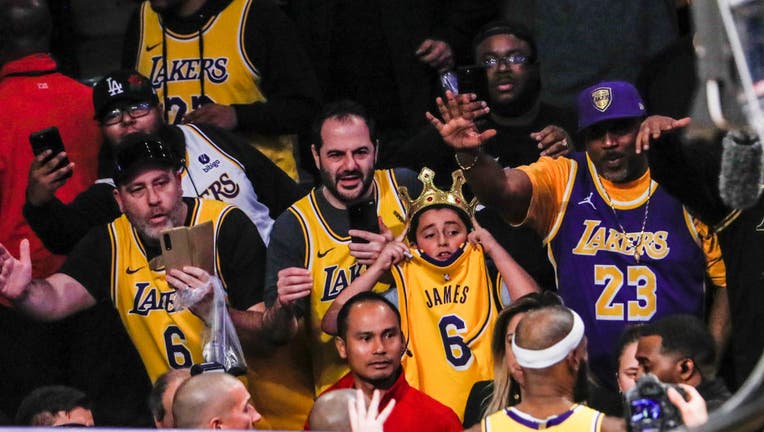 article
LOS ANGELES - The Los Angeles Lakers are one of the most celebrated sports franchises across the globe.
Some of the best players to grace the hardwood in NBA history have been Lakers including Kobe Bryant, Kareem Abdul-Jabbar, Magic Johnson, Shaquille O'Neal and the "The Logo" himself, Mr. Jerry West. 
The Lakers are tied with their rivals, the Boston Celtics, with 17 NBA championships apiece. Thus, the two franchises share a record for the most titles in the league. 
While being a Lakers fan certainly comes with plenty of bragging rights, it apparently also comes at a cost, according to research conducted by the US Betting Report. 
The research using a "Fan Cost Index" indicates the price to watch the Lake Show for a family of four cost an average of $711.76 in 2022. That amount is a 37% increase in a 10-year period between 2012 and 2022. The price also includes two small draft beers, four small soft drinks, four regular-size hot dogs, parking for an hour, two game programs, and the two least-expensive, adult-size adjustable hats. 
SUGGESTED: Lakers free agency: Keep track of who's in and who's out
In 2012, a family of four could reportedly enjoy a night at what was then called the Staples Center for $518.
Believe it or not, fans of the Lakers are not the biggest bank breakers in the NBA but are still paying the third-highest amount among fans in the league.   
Fans of the New York Knicks are shelling out the most amount of cash, according to the survey. For an average night out to see Knicks at the iconic Madison Square Garden for a family of four, it cost an estimated $936.72 last year.
SUGGESTED: Lakers release 2023-24 preseason schedule
The Lakers narrowly missed the number two spot to their competitors up north in the San Francisco Bay Area. In 2022, a night out to see the Golden State Warriors for a family of four cost an estimated $740.08.