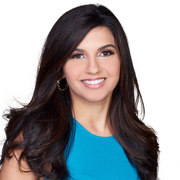 Amanda Salas joined the FOX 11 team in April of 2017, but you may have seen her on Hollywood Today Live which aired on FOX 11 and My13 from 2014-2017. She has been an entertainment reporter, host and producer for over 10 years. From set visits to sit-down interviews, award season and filling in on Good Day LA, Salas has done it all. She started her career in 2008 at the Orange County Register. A decade of red carpets has earned Amanda the popular nickname "Latina on the Scene-a". Amanda also started hosting for the IMDB show in 2017.  Amanda is also a member of the FOX Entertainment All-Stars!
The latest from Amanda Salas
Many of you know our Entertainment Reporter, Amanda Salas. She's been on Good Day LA and our evening news for more than two years. What you may not know is she's been facing a battle for her life, and she wanted to share her story — in her own words.