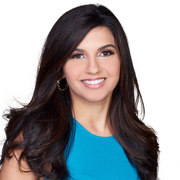 Amanda Salas
Entertainment Reporter
Amanda Salas has been an Entertainment Reporter/Host/Anchor for over 12 years. She is currently the Entertainment Anchor on Good Day LA. She joined the FOX LA team in April of 2017, but you may have seen her on the nationally syndicated entertainment show, Hollywood Today Live, which also aired on FOX stations and My13 KCOP from 2014-2017.
Amanda's career has taken her all over the world; from set visits to sit-down interviews, film, and tv junkets to award season coverage. Amanda has done it all, including battling and beating cancer in 2019. She is a board member for The Leukemia and Lymphoma Society, a member of the Producers Guild of America, a Television Academy member, and a proud dog mom of a rescue named January Bones. She also is a lover of puns, and calls herself a "Punsultant."  Amanda started her career in 2008 at the Orange County Register.
Amanda is a Fox Entertainment All-Star, has been a Film and Television Correspondent for IMDb since 2017, and also has over 10 years of experience being an automotive host on television. Cars, stars, and so much more! 
The latest from Amanda Salas