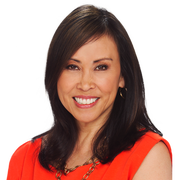 Susan Hirasuna is a proud hometown girl. She was born in Encino, raised in Simi Valley and graduated from the University of Southern California. For more than two decades, she anchored the weekend news and reported for Fox 11. Susan's work has been recognized by the Los Angeles Emmy awards, the Golden Mikes and New England Emmy awards. In 2012, she traveled to Japan on a fellowship to report on recovery and rebuilding efforts, a year after the great quake and tsunami. As an anchor, she's handled extended coverage of the Route 91 shooting in Las Vegas, the death of Princess Diana and too many wildfires and police pursuits to count. Susan is a longtime member of the Asian American Journalists Association and served on the LA board for years. Currently, she is still active with the chapter as an advisory board member.
The latest from Susan Hirasuna
Natalie Luna says her sense of security is gone. She was inside her dentist's office in Long Beach Wednesday when someone approached her from behind, grabbed her fanny pack, dragged her outside and robbed her.
Bill Samawi hasn't seen his son Steven in more than 40 years. Steven left for England with his mother when she was diagnosed with terminal breast cancer. Now 82, he still dreams he can one day see his son again.
The owners of Holy Grill say the suspect somehow managed to open a locked door, and went into the office where he took off with receipts, a laptop and more.
FOX is joining the campaign "Make Camo Your Cause," to raise awareness and donations for our nation's heroes.
A manhunt is underway after police say someone fired shots, killing a woman who was involved in a multi-vehicle collision in South Los Angeles Wednesday.
Some USC students took it upon themselves to protect what they call the 'naïve drug user'.
A popular barbecue spot in Orange County tells FOX 11 they are in danger of getting evicted by its landlord.
After Cosby was released from prison due to a legal technicality, supporters of sexual assault survivors and women who say they survived Cosby are speaking out.
Grammy award-winning singer Macy Gray says the US needs a new flag and that the current one now represents divisiveness and hate. She spoke exclusively with FOX 11's Susan Hirasuna.