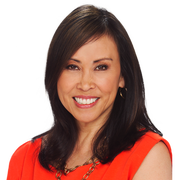 Susan Hirasuna is a proud hometown girl. She was born in Encino, raised in Simi Valley and graduated from the University of Southern California. For more than two decades, she anchored the weekend news and reported for Fox 11. Susan's work has been recognized by the Los Angeles Emmy awards, the Golden Mikes and New England Emmy awards. In 2012, she traveled to Japan on a fellowship to report on recovery and rebuilding efforts, a year after the great quake and tsunami. As an anchor, she's handled extended coverage of the Route 91 shooting in Las Vegas, the death of Princess Diana and too many wildfires and police pursuits to count. Susan is a longtime member of the Asian American Journalists Association and served on the LA board for years. Currently, she is still active with the chapter as an advisory board member.
The latest from Susan Hirasuna
We now know who shot the cellphone video of the woman at CVS who let out a minute long racist rant. 
More video has emerged showing the woman who spewed hatred at a CVS store in the Eagle Rock neighborhood.
 A Pomona woman didn't hesitate to fight when a man entered her insurance business, showed her a knife and demanded money.
Tuesday, August 10, 1999, before it seemed like there was an active shooter scare every other week a white supremacist opened fire on the North Valley Jewish Community center in Granada Hills.