Speeding driver causes fiery crash in Windsor Hills killing 6, including pregnant woman and infant: CHP
LOS ANGELES - Six people were killed, including a pregnant woman and an infant, and eight others were injured following a fiery car crash in the Windsor Hills area Thursday afternoon, the California Highway Patrol said. 
The crash, which involved eight vehicles, happened at the intersection of S. La Brea and Slauson avenues around 1:30 p.m.
Investigators believe the suspect, who was driving a Mercedes-Benz, was traveling over 100 mph going southbound on S. La Brea Avenue when she ran a red light and caused the crash. According to the CHP, the speed limit at that intersection is 35 miles per hour. Evidence shows the suspect failed to pump her brakes before she plowed into the intersection. The female driver was arrested on Friday morning, the CHP said.
The suspect was identified as 37-year-old Nicole Linton. Charges are being forwarded to the Los Angeles County District Attorney's Office for vehicular manslaughter with gross negligence.
Upon impact, several vehicles erupted into flames and also caused a nearby commercial fire. Bystanders tried to help those trapped but couldn't get close.
RELATED: Windsor Hills crash: Speeding driver arrested in collision that left 6 dead, including pregnant woman
"The worst thing is we can help nobody because the fire was out of control," a witness told FOX 11.
Authorities Friday began to identify the victims killed in the crash. The pregnant woman who was killed in the crash was identified Friday by the Los Angeles County coroner's office as Asherey Ryan, 23, of Los Angeles. Her unborn child was also counted among the deceased.
RELATED: 
It was initially believed five people were killed in the horrific crash. However, the CHP reported the sixth death after crews found a body inside one of the burning vehicles, CHP said.
An additional eight people were injured in the crash, including six minors and two adults, ranging in age from one to 33 years old.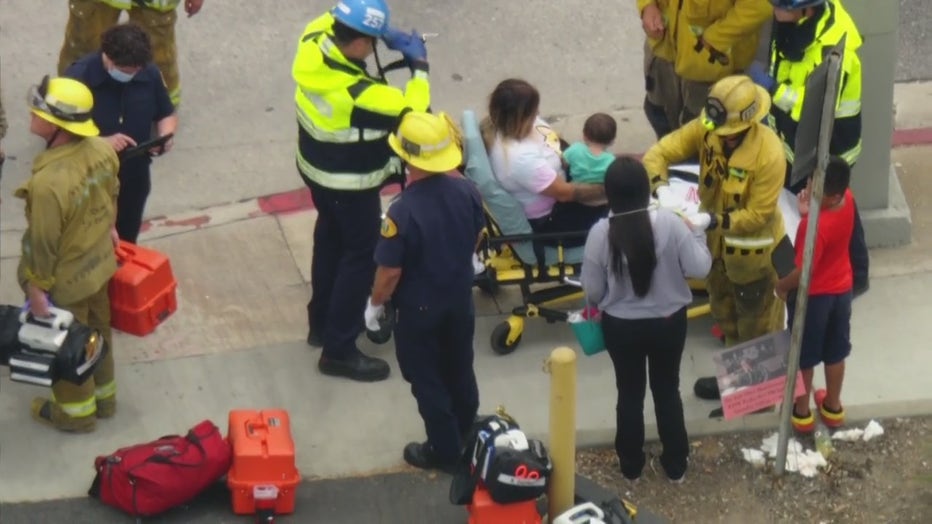 Images from SkyFOX show at least two burned vehicles, one of which split in half after crashing into a pole. Images show people being treated at the scene and being placed on gurneys to be taken to the hospital. All eight patients were transported to the UCLA Medical Center, according to the Los Angeles County Fire Department. Seven patients were released after being triaged in the emergency department Thursday night and one patient was admitted in fair condition.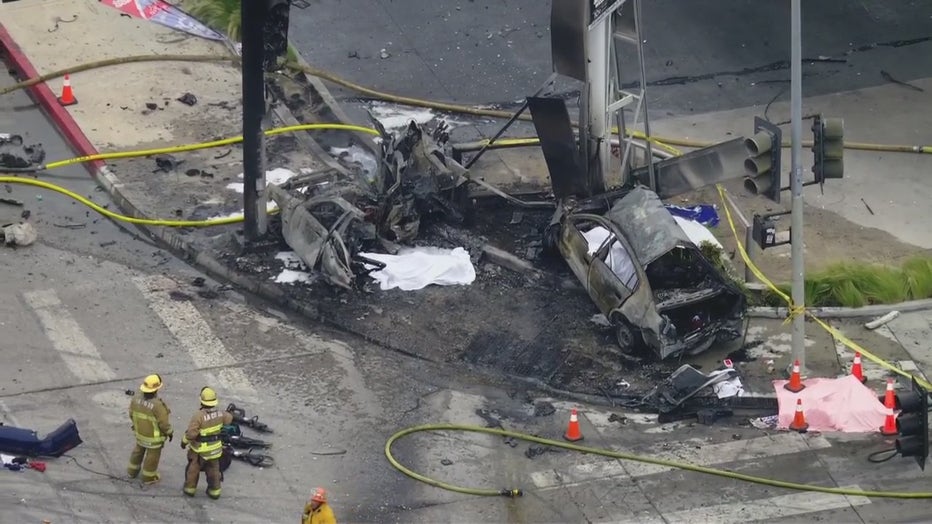 One CHP officer described the crash scene to reporters on Thursday afternoon. "It almost looks like a war zone," he said.
"It was just really bad. It was just really, really graphic, really gruesome with people everywhere screaming," a witness told FOX 11. 
The intersection of Slauson and La Brea avenues was closed for several hours for the investigation and reopened by Friday morning. 
On Friday, Los Angeles County District Attorney George Gascón issued the following statement:
"My heart goes out to the families that lost loved ones in the horrific car collision that occurred yesterday in Windsor Hills. This incredible tragedy has sent shockwaves throughout Los Angeles and the loss of so many precious lives will have a lasting impact on those that are closest to them.
Our office is in close contact with the lead law enforcement agency investigating. A prosecutor has already been assigned and will be working with law enforcement throughout the weekend. We will provide updates as more information becomes available. The case could be presented to us as early as Monday."