2nd suspect sought in stabbing death of El Sereno teen
LOS ANGELES - A suspect accused of fatally stabbing a 17-year-old boy in El Sereno and injuring another man was taken into custody Wednesday morning following an hours-long standoff with authorities at his home in Alhambra. 
The suspect, identified as 32-year-old David Zapata, spoke to crisis negotiators on the phone, who were eventually able to convince him to come out of the house and surrender. 
RELATED: 
Zapata is accused of stabbing Xavier Chavarin, a straight-A student at Woodrow Wilson High School, on March 3. In a GoFundMe campaign, family said that attack occurred when Chavarin walked from school to King Torta after class to wait for his mom, stepfather and sisters to pick him up. Chavarin died at the scene.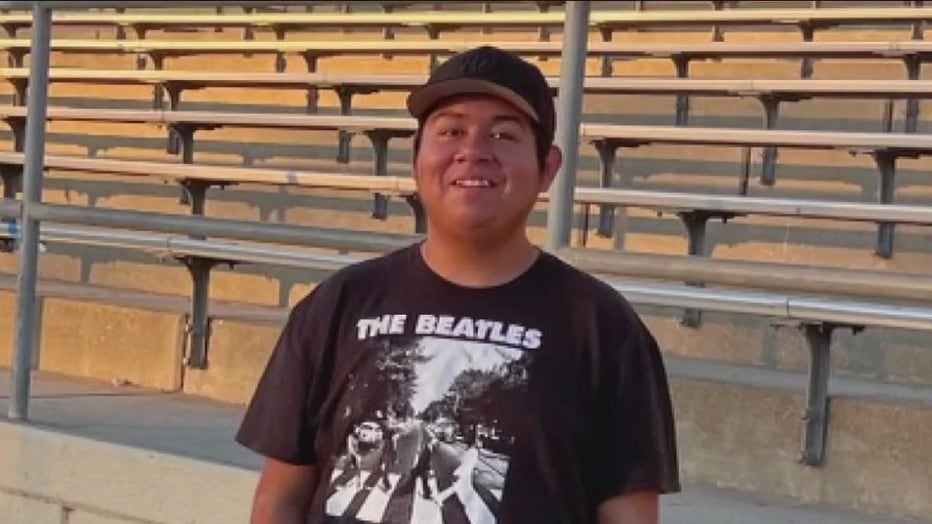 A second outstanding suspect is being sought by police in connection with Chavarin's death, the LAPD said during a press conference Thursday. This second suspect was a passenger in the getaway car that Zapata drove from the first scene, police said. No further details on the suspect were released.
SkyFOX video from the standoff in Alhambra showed Zapata wearing dark clothing and a baseball cap, exiting the house and walking slowly toward the heavily armed officers, who spoke to him briefly then handcuffed him and took him into custody. 
Zapata lived in the home located in the 2300 block of Westmont Drive, near Warwick Road and Winthrop Drive, with his family. No one else was inside the home during the standoff.
Police said Zapata had "mental health prior incidents," but did not elaborate. He previously had 7 misdemeanor arrests and had no felony arrests or convictions, authorities said. 
"His mental health is no reason for what he did, and I'll simply say that," Lt. Ryan Rabbet said during the press conference.
Zapata is also wanted for the attempted murder of 33-year-old Daniel Villalobos, who police said was stabbed by Zapata just hours later about half-a-mile-away from where Chavarin was killed. According to police, Villalobos was standing outside Valley Food and Liquor when he was stabbed in the unprovoked attack. He was taken to a local hospital for treatment of multiple stab wounds and is recovering.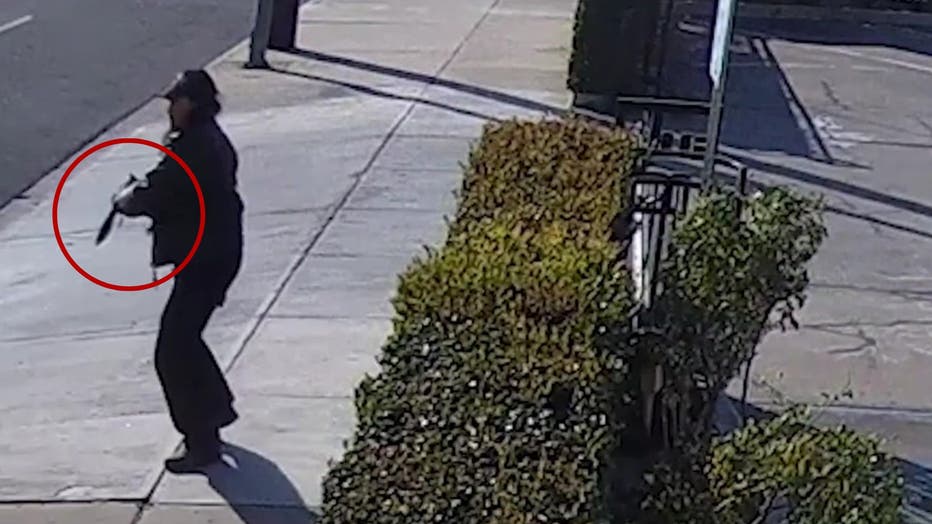 Surveillance video from near where 17-year-old Xavier Chavarin was stabbed and killed on March 3, 2023, shows the attacker holding a large knife. (Photo courtesy of the LAPD)
Lt. Rabbet said both cases - Chavarin's murder and Villalobos' attempted murder - will be presented to Los Angeles County District Attorney George Gascón.
At this time the motive remains unclear, authorities said, as there is no apparent connection between Zapata and the two victims.
The investigation remains ongoing.