Santa Clarita residents returning to U.S. after being quarantined aboard cruise ship in Japan
JAPAN - It's a vacation nightmare… hundreds of people stuck in their cruise cabins under quarantine after numerous coronavirus cases were confirmed aboard the Diamond Princess Cruise ship.
Passengers have been trapped inside their cruise cabin since February 4 which is docked at Yokohama, Japan. About 380 Americans are on the cruise ship.
But there is some god news-- the Japanese Ministry of Defense said around 300 of them were preparing Sunday night to leave on buses to take them to Tokyo's Haneda Airport. The U.S. State Department has arranged for charter flights to fly the Americans back to the United States.
Related: Santa Clarita couple quarantined on cruise ship due to coronavirus outbreak
But Santa Clarita resident Jerri Jorgensen remains isolated in a Japanese hospital room, diagnosed with the coronavirus.
She tested positive for the virus Friday while on board the cruise ship and was transported four hours to a hospital in Fukushima. 
"There's my hospital bed it's really quite spacious, sink, here's these glorious Japanese toilets that are heated, happy days," Jorgensen said. 
Luckily, all her tests now are clear…she doesn't have a fever and is showing no sign of the virus.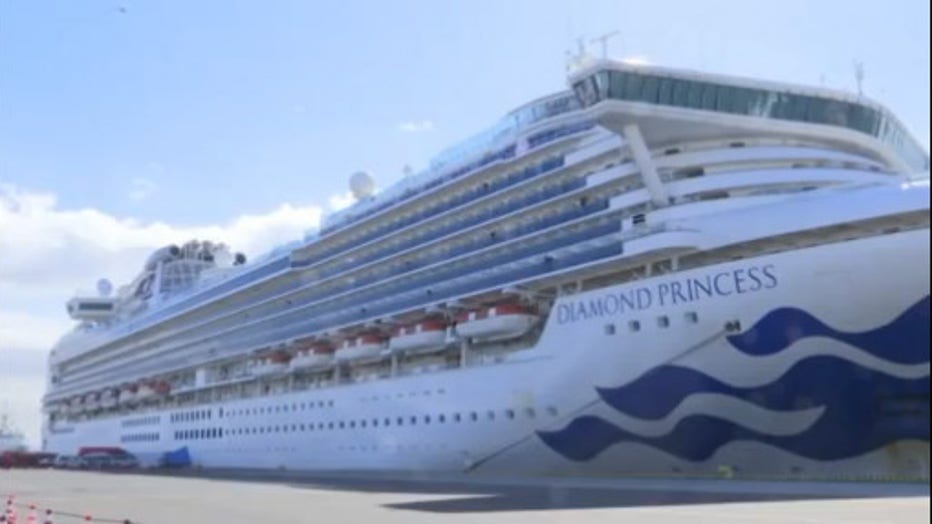 "They just say 'good, very healthy.'"
Still, she's stuck there for two weeks…while her husband and friends aboard the cruise are about to disembark.
The US government is evacuating healthy American passengers to either Northern California or Texas for two more weeks of quarantine.
The Santa Clarita KHTS radio station owners who we spoke to last weekend, shared a balcony with their dear friend.
"Negatives are we're leaving Jerri by herself in Japan. Positives are hopefully we can order stuff on Amazon. I would kill for something as simple as a Q-Tip swab right now," said Jeri Serrati-Goldman who was also stuck on the quarantined cruise ship. 
They've been trapped inside their cruise cabin since February 4th.