Santa Clarita couple quarantined on cruise ship due to coronavirus outbreak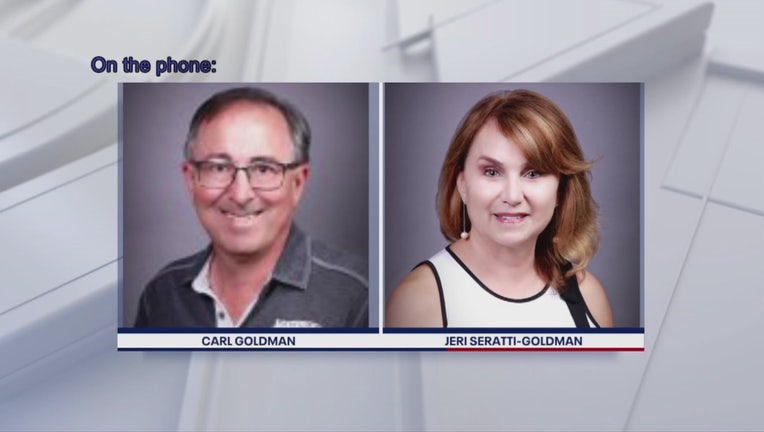 article
LOS ANGELES - The death toll for the coronavirus has now surpassed that of the SARS outbreak. It's now killed 805 people around the world. Reported cases are up to nearly 36,700, less than two months after appearing in Wuhan, China.
An American living in Wuhan has died of the virus.      
RELATED: Health officials confirm 6 cases of novel coronavirus in California
A number of people around the world remain in quarantine, including a Santa Clarita couple.
Carl and Jeri Goldman own KHTS radio station in Santa Clarita.
To celebrate his wife's birthday, Carl took them on a 16-day cruise through Southeast Asia aboard the Diamond Princess.  
It was the last day of the cruise when the ship was put under quarantine in Yokohama, Japan. The Goldmans are two of thousands stuck in their cabins for two weeks and doctors have diagnosed 64 passengers with coronavirus.
The Goldmans, who have stayed extremely positive, are washing their clothes in the bathtub and say they're some of the lucky ones because they have a balcony on the ship to get some fresh air, but nobody is allowed to leave their room.
Princess crew members, some who the Goldmans' say have gotten sick themselves, deliver passengers three meals a day to their doors with masks on.
"Yesterday for the first time, we were allowed to go the upper deck outside and walk it in isolated fashion with masks, gloves, hats, so we've had one hour out of our rooms in the last five days," says Carl Goldman.
"We wake up early in the morning as owners of the radio station. We work with our staff, because of the time difference, the show starts at 2 am our time. We have an abundance of movies to watch, books to read off the Kindle. Just enjoying each other, we're able to put a smile on our faces."
Crews also delivered each passenger a thermometer and require they take their temperature three times a day if they run a fever, they have to call down to the ship's hospital immediately.
Diamond Princess passengers have nine days left of quarantine before they're allowed to return home.