Santa Ana councilman slams Trump's crackdown on sanctuary cities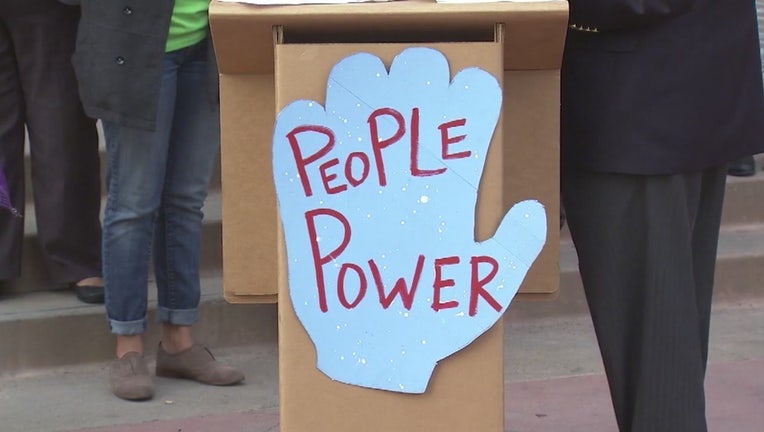 article
SANTA ANA (FOX 11 / CNS) - An Orange County congressman and a Santa Ana city councilman on Wednesday slammed President Donald Trump's executive orders to begin building a wall at the southern border and withhold federal funding from so-called sanctuary cities such as Santa Ana.
"I am disheartened by President Trump's executive orders against immigrants,'' said Rep. Lou Correa, D-Santa Ana. "We should not use our tax dollars to hurt hardworking, undocumented families only interested in a better life. They are our mothers and fathers, brothers and sisters, neighbors and peers and we should protect them.''
Last week, the Santa Ana City Council voted to be a "sanctuary city,'' giving local authorities more discretion on immigration enforcement. The panel approved an ordinance prohibiting the use of city resources for immigrant enforcement and calling on law enforcement to use more discretion to cite and release some suspects instead of detaining them at a county jail.
As he spoke at the Department of Homeland Security today, Trump talked about a series of executive actions he plans to take on immigration, including a border wall and a crackdown on refugees and immigrants from Muslim-majority countries.
"We are going to restore the rule of law in the United States,'' Trump said. "Beginning today, the United States gets control of its borders.''
Santa Ana City Councilman Sal Tinajero told City News Service he expected the president's moves on immigration, but he was surprised at how quickly Trump rolled out his orders.
In any event, city officials have been planning for it, he said.
"We were operating as a sanctuary city before we became an official sanctuary city,'' Tinajero said. ``We thought about this thoroughly... I'm glad we were so forward-thinking before he took the oath of office.''
Tinajero said the city has a ``thriving reserve of over $41 million, and these cuts he's talking about, they don't happen overnight. They take one to two years to implement ... and that gives us more time to prepare for anything coming down the pike.''
Tinajero added, "He's not just coming after us, but 241 other cities across the United States.''
The councilman said the president has no business compelling local municipalities to get into the business of enforcing federal immigration laws.
"Our officers here in Santa Ana are here to protect and serve our community not to deport'' undocumented immigrants, Tinajero said, adding that he was "very frustrated and very saddened'' at Trump's immigration plan.
City officials are in discussions with other municipalities such as Los Angeles to sue the federal government and challenge any of the president's executive orders on immigration, Tinajero said.
"I think this is a declaration of war against the state of California because the state of California has the largest amount of Latino immigrants in the country and everybody has been holding together in solidarity and not allowing our communities to be traumatized by this,'' Tinajero said.
The councilman said the Republican Party can expect some negative fallout. He recalled how his fourth-grade daughter came home from school crying after the election because she feared one of her friends would be deported.
"They're not going to forget this and they'll remember which party decided to take action,'' Tinajero said. "They'll grow and vote someday.''
Correa sent a letter Wednesday to the president, asking Trump to restore the Spanish-language option for the White House website.
"As you may know, there are many taxpayers whose first language is not English,'' Correa wrote. "In my district, many taxpayers' first language is Spanish. They benefit tremendously from having Spanish language as an option to access government.''
Correa added, "I believe the more transparency that we can provide our taxpayers -- the better for our country. It is vital for my constituents and all Americans to be engaged in our political system. As a government, we must include all voices.''
Copyright 2017 FOX 11 Los Angeles: Download our mobile app for breaking news alerts or to watch FOX 11 News | Follow us on Facebook, Twitter, Instagram, and YouTube. Be a citizen journalist for FOX 11 and get paid - download the Fresco News App today.