Protesters in Inglewood call Kaepernick case "systemic issue"
INGLEWOOD, Calif. - In Inglewood, people protested near the SoFi stadium Thursday about racial injustices, George Floyd, and Colin Kaepernick.
"Roger Goodell needs to apologize to Colin Kaepernick. In addition, he needs an opportunity to get his job back, as I just said, he's capable of playing in the National Football League right now," said Terrell Owens, a former NFL wide-receiver.
Kaepernick peacefully protested by kneeling during the National Anthem and is now a free agent. Owens referred to his case as a "serious issue."
"This is a serious issue. This is a systemic issue, and it doesn't just stop or start with Colin Kaepernick," said Owens.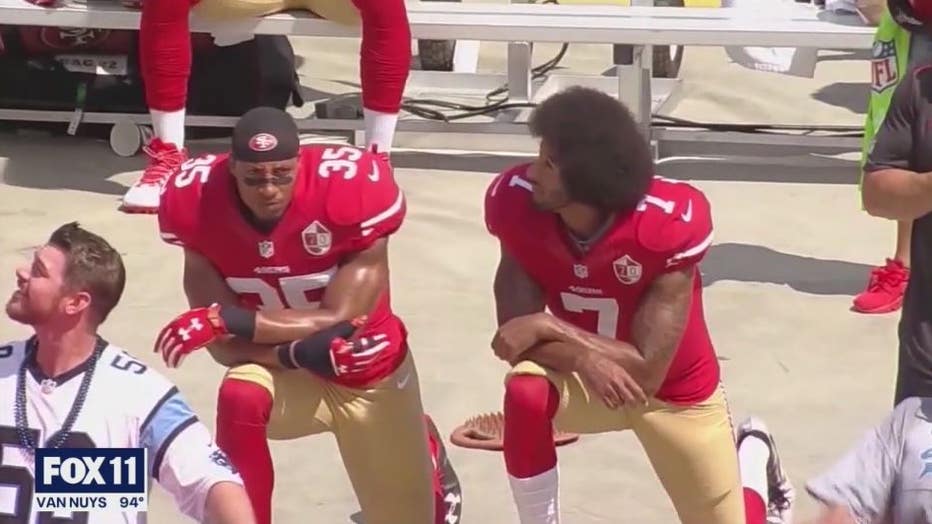 Some people believe Kaepernick's case is an example of institutional racism, which is a deep concept involving wealth, income, healthcare, housing, and other disparities.
"Institutional and structural racism is something that lingers and lasts even if we were able to get rid of all prejudice, even if we were able to put something in the water tomorrow that had us all wake up and not feel any racial animosity towards anybody, looked at everybody just the same, we would still have neighborhoods that have crumbling schools," said USC Law Professor, Jody Armour.
Armour said institutional racism is also prevalent on Skid Row.
"You look to your left and your right and you see there 75 percent black faces. They did not have affordable housing. They did not have adequate health care. They did not have social services that would address their needs," said Armour.
Armour also discussed the disparities in predominately black neighborhoods.
"Institutional racism goes to what banks will loan what money to what customers, what neighborhoods they will make mortgage loans in. A lot of black neighborhoods are close to environmental toxins, and that's why black people have a higher asthma rate, which is a factor when it comes to coronavirus, and makes it more lethal," said Armour.