Protesters gather at the private homes of LA public officials
LOS ANGELES - Thursday night protestors went to the home of LA Police Chief Michel Moore.
Dozens of protesters at his driveway posted signs saying things like "FIRE CHIEF MOORE" and "DEFUND LAPD NOW".
This is the third time we've seen this tactic of going to the homes of public officials. Last night it was the group Black Future Projects that surrounded the Chief's home. This also happened when Black Lives Matter demonstrators went to District Attorney Jackie Lacey's home and to the home of Mayor Garcetti. 
We asked Black Lives Matter leader Melina Abdullah about the tactic.She told FOX 11 that they use it "when we feel that they haven't been forced to confront these life and death issues that we're talking about and it becomes necessary to go to places where they can't avoid hearing us."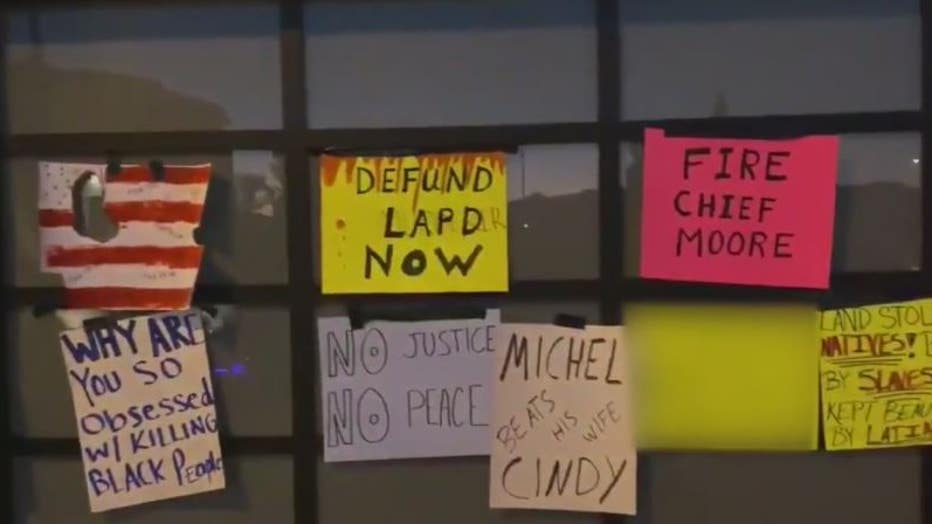 In other words, when they feel protesting during working hours isn't working it's off to the homes.
To USC Law Professor Jody Amour taking a protest to a private home is taking disruption to a new in-your-face level.
"The idea is to shut it down. Disrupt.That is cut through our collective complacency about racial injustice and the pain & suffering that its causing and then compel some uncomfortable conversations," Armour said.
He says it works. "A lot of change has come from real discomfort going back toour own origin with the Boston Tea Party."
But, to police what protestors are doing is no tea party. Sgt. Jaretta Sandoz with the LA Police Protective League (LAPPL) says, "We feel this is nothing more than intimidation and bullying. The goal is not to have actual dialogue. It's not to actually make police better. It's to shoot down anyone who doesn't agree with them."