Pop Smoke's murder connected to homicide of LA man found in barrel in Malibu: report
LOS ANGELES - Authorities are investigating the possible connection between the murder of rapper Pop Smoke and the death of an aspiring Los Angeles rapper whose body was found in a barrel in Malibu last month, TMZ reports. 
The body of 32-year-old Javonnta Murphy was disovered inside a 55-gallon drum on July 31 at Malibu Lagoon State Beach. Murphy died from a single gunshot to the head, the Los Angeles County Department of Medical Examiner reported. 
RELATED: Body found inside barrel at Malibu beach identified
It's not known how long his body was in the barrel before being recovered. However, Lt. Hugo Reynaga of the Los Angeles County sheriff's homicide bureau said the body was "decomposed or had been there a long time."
According to TMZ, Javonnta was the brother of Jaquan Murphy, who was one of the five suspects arrested for the murder of Pop Smoke in 2020. All five are believed to be members of a South Los Angeles gang, and at least some of them are believed to be linked to a 2019 homicide when a fight escalated into a shooting outside the Rose Bowl in Pasadena.
Jaquan, who was first charged with attempted murder for Pope Smoke's death, was later cleared. The publication reports Jaquan is awaiting trial for an unrelated murder in Los Angeles County. 
RELATED: Pop Smoke death: 18-year-old admits to fatally shooting rapper during Hollywood home-invasion
Investigators with the Los Angeles County Sheriff's Department are investigating the possibility that Javonnta's death was a "retaliation killing" for Pop Smoke's slaying, law enforcement sources told TMZ.
Pop Smoke, whose legal name was Bashar Barakah Jackson, was fatally shot during a break-in at a Hollywood Hills home he was renting at the time. Authorities believe the 20-year-old was shot and killed during a home invasion-robbery after his social media posts led the five suspects to the house.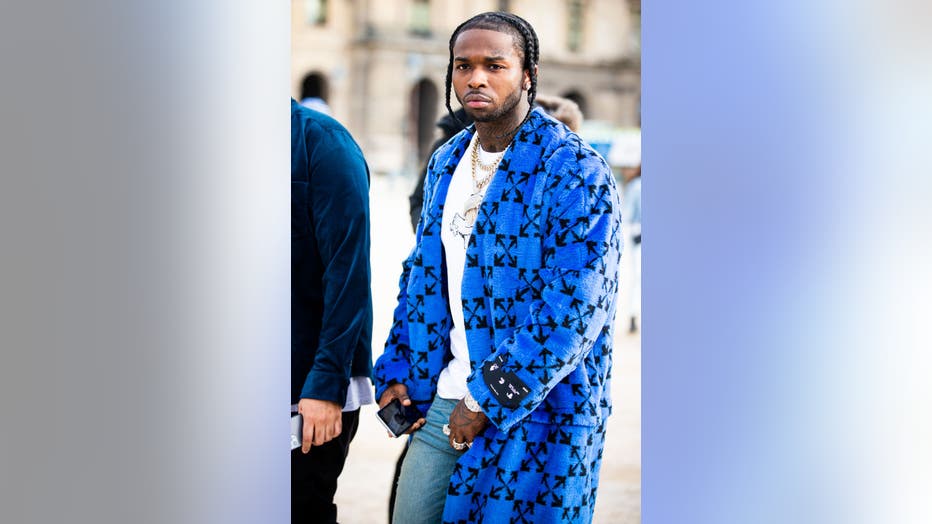 Rapper Pop Smoke attend the Off-White Menswear Fall/Winter 2020-2021 show as part of Paris Fashion Week on January 15, 2020 in Paris, France. (Photo by Claudio Lavenia/Getty Images)
FOX 11 reached out to the LASD for comment and was told more information will be released as soon as it becomes available. 
The Associated Press contributed to this report.