Organized retail store theft crew busted in Hollywood following crime spree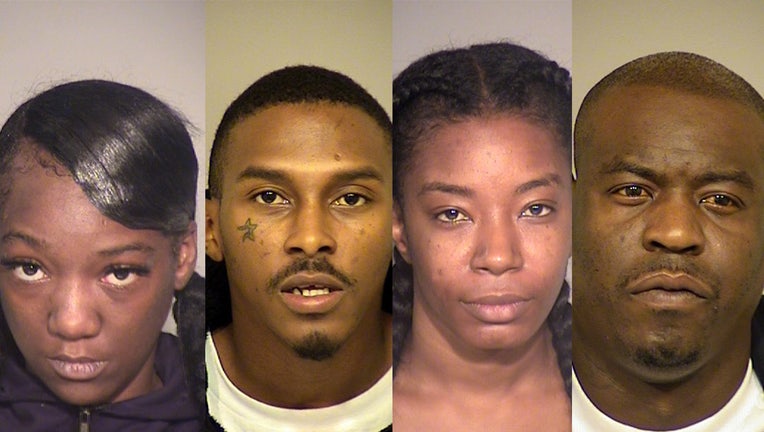 SIMI VALLEY, Calif. - A crew of organized retail thieves has been caught by police after hitting over 58 stores in Southern and Central California, authorities said.
The gang of thieves has been identified as 28-year-old Los Angeles resident Derrick Taylor, Andrew Clark, 29, Chantinaya McClelland, 29, and Antonisha Macknight, 27, all from the L.A. area.
The Simi Valley Police Department launched an investigation in late August 2019 after an organized retail theft ring victimized a CVS store in the 3900 block of Cochran Street in Simi Valley. The suspects stole over $1,000 worth of makeup, hair products, and over-the-counter medications.
Authorities say that through surveillance video and other investigative means, they discovered that the band of thieves stole merchandise from at least 58 different stores, targeting mostly Walgreens, CVS, and Riteaid.
The crime spree ended on Nov. 19 when the California Highway Patrol, with assistance from the Ventura County Auto Theft Taskforce, took all four suspects into custody in Hollywood following a series of thefts in the city of Bakersfield, according to Simi Valley police.
Investigators say Taylor, Clark, McClelland, and Macknight traveled to Bakersfield, and during that time, stole from 13 stores getting away with approximately $5,000 worth of over-the-counter medication and beauty products.
All of the stolen products from the Bakersfield crime spree were recovered at the time of the arrest, police said.
The four suspects were taken to Ventura County Main Jail where they were booked for organized retail theft and grand theft.
Anyone with information regarding this case is asked to call Detective Corey Baker at 805-583-6978.