Lunar New Year massacre: Sheriff reveals suspect's 'alternative getaway vehicle,' photos of weapons recovered
MONTEREY PARK, Calif. - Los Angeles County Sheriff Robert Luna revealed new information on the gunman accused of opening fire inside a ballroom dance studio amid Lunar New Year celebrations in Monterey Park, killing 11 people.
On Wednesday, the LA County Sheriff showed photos of the weapons recovered from the suspected gunman, 72-year-old Huu Can Tran.
In addition to the picture of the guns, Luna mentioned that a 2016 Yamaha motorcycle registered to Tran was parked in the 200 block of Garfield Avenue in Monterey Park, which is a short walking distance from the crime scene.
FOX 11 photographer Ollin Martinez took a picture of a motorcycle Sunday and said it just didn't feel right at the scene. Come to find out, LASD investigators said they believed the motorcycle was there to serve as what Luna described as an "alternative getaway vehicle."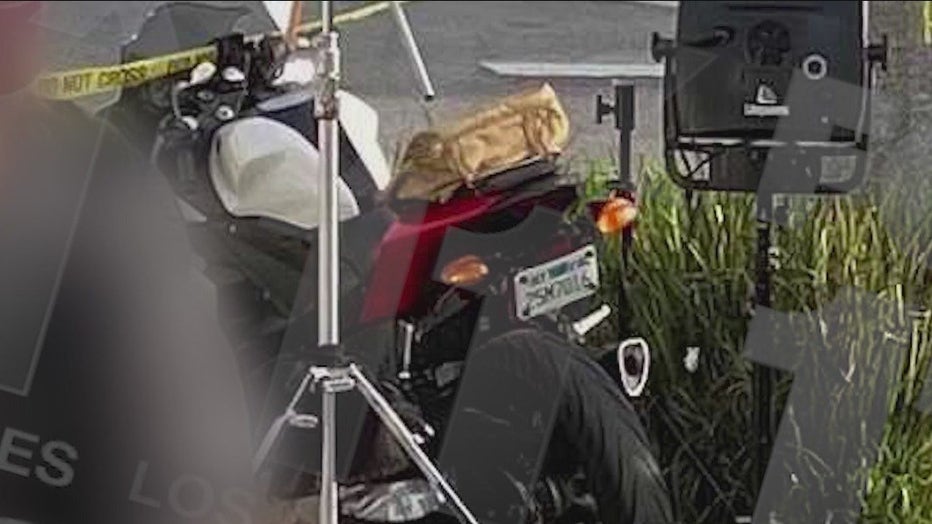 Monterey Park PD confirmed a motorcycle found near the crime scene belonged to Huu Can Tran. Investigators said they believe it was his backup getaway vehicle.  (FOX 11)
The announcement comes days after the LASD raided the Hemet home of the suspected gunman. 
Two days before the photos were released, Luna revealed what authorities found during their search, which included a .308 caliber rifle and numerous electronic devices – like cell phones and computers.
"Items that lead us to believe the suspect was manufacturing homemade firearm," Luna said during a Monday afternoon update. "There were a lot of loose ammunition."
The LA County Sheriff also took the time Monday to recognize Brandon Tsay, the man who may have prevented more victims.
"He's the hero that disarmed the suspect at the Alhambra location and, in my opinion, saved many of lives."
Detectives continue to search for a motive. Prior to the deadly shooting, Tran's criminal history is "limited," with the exception of a 1990 arrest in connection to an unlawful firearm possession charge, the LA County Sheriff said.
Tran, died from a self-inflicted gunshot wound at a SWAT scene in Torrance, LA County Sheriff Robert Luna said. No other suspects are being sought.
"I can confirm that there are no outstanding suspects from the mass shooting incident that occurred in the city of Monterey Park," Luna said. "And although that closes a portion of a very long day for all of us, the investigation continues."
Here's everything we know.
Monterey Park shooting
The shooting happened just before 10:30 p.m. at the Star Ballroom Dance Studio in the 100 block of Garvey Avenue, according to Lieutenant Patricia Thomas of the Los Angeles County Sheriff's Department. That's where five women and five men were killed, and another 10 people were wounded – one of whom ultimately died at the hospital, according to an announcement made Monday morning.
Officials said 20 to 30 minutes later, Tran entered the Lai Lai Ballroom in nearby Alhambra with a gun. Tsay, who was at that dance hall, was able to disarm the suspect and wrestle the weapon away from him, Luna said.
RELATED: 
Saturday's shooting was the worst mass shooting in Los Angeles County since a disgruntled ex-husband killed 10 people in Covina in 2008.
A victim assistance site has been set up at the Langley Senior Center located at 400 W. Emerson in Monterey Park. It will be open daily from 8 a.m. to 7 p.m. For more information, call 211 or 626-307-1388. 
Torrance SWAT situation
Tran's body was found in the driver's seat of a white van in Torrance matching the description of a vehicle of interest in connection with the shooting Sunday afternoon.
The van was located in a parking lot on the south side of Sepulveda Boulevard, just west of Hawthorne Boulevard, at a strip mall not far from Del Amo Fashion Center. 
According to Luna, Tran died from an apparent self-inflicted gunshot wound. Tran had stolen the license plate of another vehicle to put on his van just hours after the shooting at the Monterey Park dance studio.
"When officers exited their patrol vehicle to contact the occupant, they heard one gunshot coming from within the van," Luna said. 
Several hours later, a SWAT team approached the van and determined Tran had shot himself, and he was declared dead, and determined to be the suspect in both the Monterey Park and Alhambra scenes.
"Several pieces of evidence were found inside the van linking the suspect to both locations in Monterey Park and Alhambra," Luna said, including another handgun recovered inside the van.
What we know about the victims
When officers arrived at the scene, they found multiple victims and other people in the parking lot. Officers went inside and found more victims. Ten people - five men and five women - were declared dead at the scene. An eleventh victim died at the hospital, according to an announcement made Monday.
All eleven victims were identified Tuesday by the LA County Coroner. They are My Nhan, Lilan Li, Xiujuan Yu, Muoi Ung, Hong Jian, Yu Kao, Chia Yau, Valentino Alvero, Wen Yu, Ming Ma, and Diana Tom.
RELATED: Lunar New Year massacre: Victims of the Monterey Park mass shooting identified
What we know about the suspect
Sheriff Luna identified the suspect in Saturday's shooting in Monterey Park and the attempted attack in Alhambra as 72-year-old Huu Can Tran. Public records show his latest address in Hemet, but other records show he has lived in Monterey Park in the past. Tran had been arrested thirty years ago on a firearms charge.
Other public records showed Tran was the CEO of a trucking company, called Tran's Trucking, but the company dissolved in 2022.
A neighbor of Tran's in Hemet told FOX 11 that his neighbors were "stunned" to learn he may have been involved in this.
"Everyone around him thought he was just a quiet little guy," said Pat Roth. "People I talk to are just stunned he was involved in this. Just kept to himself. We'd see him out [walking], but he pretty much lived along." 
Roth added that Tran "wasn't someone I'd be afraid of."   
From the van that was under investigation Sunday, LASD found a handgun that was registered to Tran.
"There was also clothing that the suspect wore during the commission of the crimes, and that was also recovered from the van," the LA County Sheriff said. "We have also learned that the firearm, which was wrestled away from the suspect at the Alhambra scene, was a nine-millimeter caliber semi-automatic Mac-10 assault weapon."
From Tran's home, LASD recovered hundreds of rounds of .308-caliber and 9mm ammunition and silencers. According to Luna, 42 shell casings were recovered inside the Star Ballet Dance Studio where the shooting occurred over the weekend.
Before the Monterey Park shooting, the LA County Sheriff described Tran's criminal history as "limited." The suspected gunman was previously arrested in 1990 over an unlawful firearm possession charge. It is also believed by LASD that Tran had not visited the Monterey Park ballroom dance studio in about five years prior to the shooting.
Motive
In a press conference Wednesday, four days after the shooting, the LA County Sheriff does not believe the suspect had romantic ties with any of the victims.
Some reports had said Tran frequented the dance hall and fancied himself as an instructor, but Luna said he hadn't been there in at least five years and did not appear to target the victims specifically.
"We have not been able to establish a connection between the suspect and any of the victims thus far," Luna said. Some reports had said Tran frequented the dance hall and fancied himself as an instructor, but Luna said he hadn't been there in at least five years and did not appear to target the victims specifically.
"We have not been able to establish a connection between the suspect and any of the victims thus far," Luna said.
Though the attack in Monterey Park happened in a majority Asian community, officials have said it's too early to classify this attack as a hate crime. 
Monterey Park has a population of about 61,000, on the eastern edge of Los Angeles and is composed mostly of Asian immigrants from China or first-generation Asian Americans. Witnesses said several of Saturday's victims were senior citizens who appeared to be Asian.
Chester Chong, the chairman of the Chinese Chamber of Commerce, told FOX 11 that he's friends with the owner of the Star Ballroom. He said he didn't know the suspect personally, but talking to others in this community, he believes that the mass shooting could have stemmed from some sort of domestic dispute.
"A couple, a [ex] husband and [ex] wife, and I heard about the [ex] wife want to be here to do the service of the ceremony and the [ex] husband don't want him to come. That's what I heard... then that's what's happening," he told FOX 11's Bob DeCastro.
Reaction and support
White House Press Secretary Karine Jean-Pierre tweeted Sunday morning that President Joe Biden has been briefed on the shooting, and has directed the Homeland Security Advisor to ensure that the FBI is fully supporting local authorities in their investigation. 
Vice President Kamala Harris said in part, "yet another community was torn apart by a senseless act of gun violence."
"To the Monterey Park families impacted: Doug and I mourn with you -- and pray for you. @POTUS and I will continue to provide full support to local authorities as we learn more," she said.
Gov. Gavin Newsom called the mass shooting a "heartless act of gun violence."
California Attorney General Rob Bonta extended his condolences to the "victims and their loved ones today. My office is monitoring the situation and has offered our support to local law enforcement as an investigation unfolds."
Los Angeles Mayor Karen Bass said in part the current situation is "absolutely devastating."
Diamond Bar Mayor Andrew Chou tweeted: "Our prayers are with our friends and colleagues in the great city of Monterey Park. We stand ready to lend our support during this difficult time as we wait for more confirmed details of an alleged mass shooting incident."
Alhambra Mayor Sasha Renee Perez said: "I am in a state of shock, heartbreak and devastation. A mass shooting has occurred in our neighboring City of Monterey Park. Our thoughts and prayers are with the victims and their loved ones. Our community stands ready to do whatever we can to support all those impacted."
Rep. Judy Chu, the first Chinese-American woman to be elected to Congress, who also calls Monterey Park home, tweeted out her sympathies Sunday morning saying, "My heart is broken for the victims, their families, and the people of my hometown Monterey Park who were impacted by the mass shooting that took place during a night of Lunar New Year celebrations. I am closely following the situation."
LA County Supervisor Hilda Solis said she was at Saturday's Lunar New Year celebration.
"Just yesterday, I had the honor of joining thousands of Asian Americans and Pacific Islanders (AAPI) residents in the City of Monterey Park for its Lunar New Year Celebration and it was beautiful to see the joy displayed on their faces after this event was postponed for two years due to the COVID-19 pandemic.
"Monterey Park holds significance as having one of the largest percentages of AAPI residents in the United States. For decades, the city has elevated the cultures and histories of AAPIs in this country -- breaking barriers and challenging stereotypes along the way. As we await to see if this is a hate crime, we must continue the work of protecting our communities and keeping them safe."
Safety concerns
LAPD Chief Michel Moore said there will be extra patrols and added security in Asian communities today celebrating Lunar New Year.
Some celebrations canceled
Saturday was the first day of a two-day festival celebrating the Lunar New Year in Monterey Park. The second day of the festival was canceled "out of an abundance of caution and in reverence for the victims," according to officials.
USC's Pacific Asia Museum and the Citadel Outlets both canceled their Lunar New Year celebrations.
The Lai Lai Ballroom in Alhambra also announced it would be closed Sunday but reopen for lessons only on Monday. Tea and night dances are suspended until further notice.
How to help
GoFundMe has created a main page for verified fundraising efforts in connection with the Monterey Park shooting. Tap or click here to learn more.
The Associated Press and City News Service contributed to this report. 
If you're in distress due to recent incidents of mass violence, please know that there is help is available. Talk to experienced counselors at the Disaster Distress.. Helpline for 24/7 emotional support. Call or text 1-800-985-5990. Click here for additional resources.