Miami Dolphins honor murdered deputy Ryan Clinkunbroomer ahead of historic win
LOS ANGELES - The Miami Dolphins honored slain Los Angeles County Sheriff's Deputy Ryan Clinkunbroomer Sunday, following their historic win against the Denver Broncos.
The Dolphins scored 70 points in their Sunday matchup, the most in nearly six decades, and became just the fourth team in NFL history to score 70 or more points in a game. But it was what the team posted after the game that grabbed attention. 
The team posted a photo on their X (formerly Twitter) account Sunday, of a lone jersey hanging from a locker. The jersey featured the number one, with the name "Clinkunbroomer" emblazoned on the back.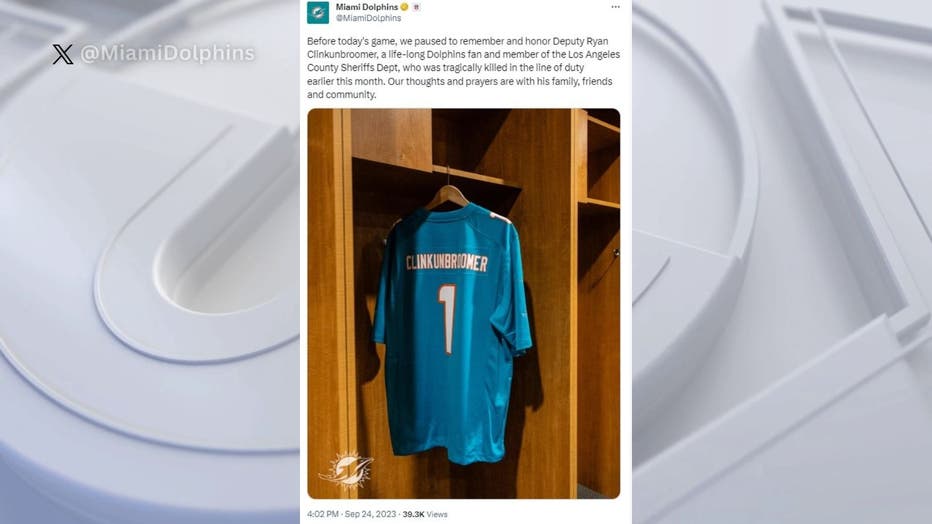 SUGGESTED: LASD deputy shot and killed in ambush attack in Palmdale; suspect arrested
"Before today's game, we paused to remember and honor Deputy Ryan Clinkunbroomer, a life-long Dolphins fan and member of the Los Angeles County Sheriffs Department, who was tragically killed in the line of duty earlier this month," the post read. "Our thoughts and prayers are with his family, friends and community."
Clinkunbroomer was shot and killed on Sept. 16, while sitting in his patrol car just outside the Palmdale Sheriff's Station. That's when investigators said Kevin Salazar pulled up in his car alongside Clinkunbroomer's patrol car and shot him.
Clinkunbroomer was 30 years old, and had gotten engaged just days before his murder. 
His fiancée Brittany Lindsey spoke out last week for the first time, talking about the life she was excited to begin with her new fiancé, a life that was cut short.
"I couldn't wait to start our lives together," she said. "We were just engaged. Planning to get married and start a family. Ryan, I miss you. And I love you so much. I don't know how to live without you. I didn't ever want to imagine it."
RELATED: Fiancée of murdered Palmdale Deputy Ryan Clinkunbroomer speaks out for first time
In addition to the jersey posted on X Sunday, the Dolphins also held a moment of silence for Clinkunbroomer ahead of their game.
The historic nature of Miami's win Sunday was not lost on commenters.
"70 points for Ryan. RIP," one wrote.
"Then this win is for him, then," wrote another.
Clinkunbroomer's fiancé has set up a donation page for those wishing to help the deputy's family in the aftermath of his death. That fundraiser can be found here.
Additionally, the ALADS has also set up a donation page. That fundraiser can be found by clicking here.