Meet Sandra Endo's mentor Coach Steve Kalan
LOS ANGELES - We are all shaped by people who have an impact on our lives, and if we are lucky, there are those who stick by us and guide us along the way.
This week, the Good Day LA team recognized some of the amazing mentors in their lives and GDLA anchor Sandra Endo tells us about hers who has been a significant influence. 
Coach Steve Kalan was her swim coach back at Van Nuys High School, and for four pivotal years, he taught her more than what she could have learned in the classroom.
"After all these years, here we are at a pool, just like old times! My home away from home," he said during his recent interview with Endo.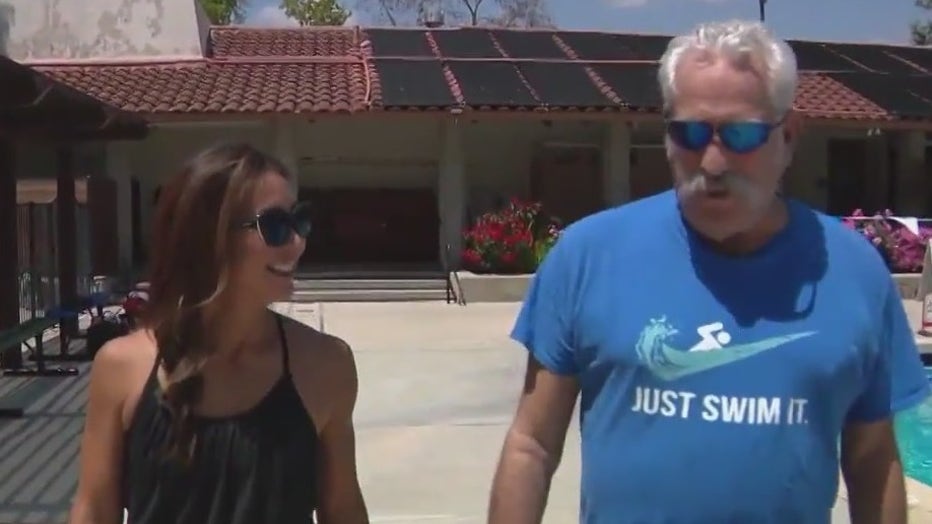 As a freshman, Endo earned her way on the varsity squad where she competed throughout her high school years.
"I made you varsity because you were a great butterflier and IM (individual medley). That's what you were for four years. We won four championships in a row in the conference, and you were an integral part of that. I remember you being captain for, I think, two years," Kalan said.
Looking back, Endo says those years on the team made an impact on her adulthood.
"So much of swimming is an individual sport, and what you don't realize when you're leading a team as a captain is that people are looking up to you, asking for advice. That's the position you put me in," she told Kalan.
Looking back, Endo says it was Coach Kalan who helped her grow as a team leader, to work hard not just for her own sake but to get the entire team motivated to be their best.
"You were extremely easy," he recalls. "You had your moods, everyone did. What was my mood? No, you would get disappointed. You wanted to strive and be in that upper echelon. You were here but working with the other swimmers that were not as gifted. How do you work with them? You were the city champion as a freshman and sophomore. It was just good times. I enjoyed that team."
But together, a small but mighty team, Endo said they managed to win the conference title year after year and had a lot of fun along the way.
Kalan remembers Endo as a hard worker, which made an unfortunate moment from her senior year even more challenging.
"You were involved in an auto accident. You were one of the favorites to win the butterfly and the IM. We tried, we tried darn hard to do it, but we had to withdraw you from the city because of that. I was disappointed, and I know you were disappointed," Kalan recalled.
Endo's toughest competitor from another school ended up winning the title, but in press interviews, her absence was mentioned at the race.
"That was not just a race to me; it felt like the world ending for me. I still remember my senior year and that race that I missed. I look back on it and see how you were there for me as a role model, as a mentor," Endo said.
She remembers how he lifted her up and was there for her family. 
It can take just one person to change your trajectory or your outlook on life and it shows how impactful someone can be.
Before their interview, Endo hadn't seen Coach Kalan since her high school graduation, but have followed each other on social media.
"I will always remember that pivotal moment when I thought I was at my lowest point, he was there for me to give me great perspective, and just believed in me," Endo said.