10 Freeway crash: 3 Anaheim family members killed in Riverside County identified
RIVERSIDE COUNTY, Calif. - Three Anaheim family members were killed after their car flipped in a crash on the 10 Freeway near Palm Springs Sunday morning. Several other people were injured.
The crash happened just before 7:30 a.m. Sunday on I-10 near Haugen Lehmann Way in the Whitewater area of Riverside County, according to Jason Montez with the California Highway Patrol's San Gorgonio Pass Office. 
Montez said that two cars, a black Tesla and a red Chevy Suburban, were traveling eastbound along the 10 Freeway alongside each other, when one of the cars changed lanes. The front left of the Tesla made contact with the back right of the Suburban, causing the Suburban to lose control. The SUV then hit the center divider and flipped, Montez said.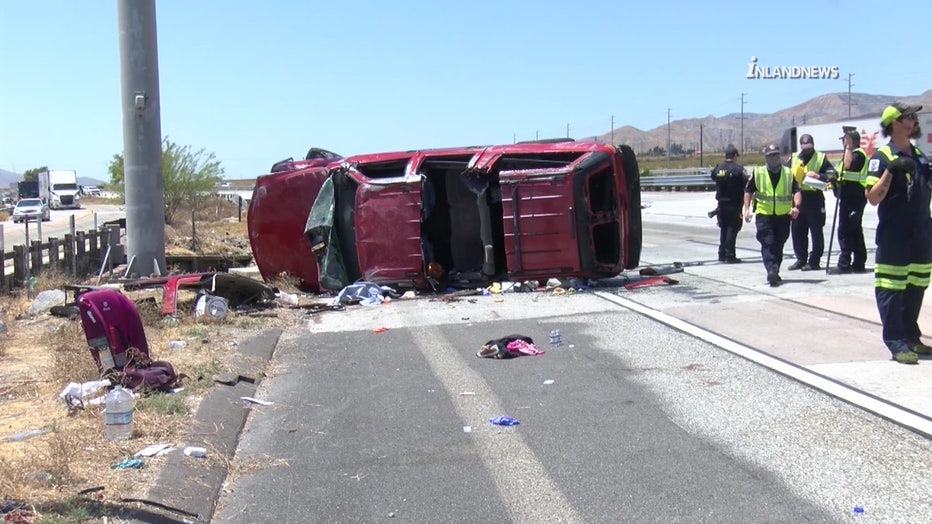 SUGGESTED: Victorville mom killed, kids hospitalized in crash with alleged DUI driver
In total, five people were thrown out of the suburban. Two people were ejected when the SUV first hit the center divider. They were both pronounced dead at the scene. Another three were ejected as the Suburban flipped. A sixth person was "partially ejected" from the car.
The three family members killed were identified Monday as 31-year-old Cecilia Villalobos of Anaheim, a 12-year-old girl, and an 8-year-old girl. A GoFundMe page has been launched to help the family.
Three other people suffered major injuries, while others suffered minor injuries, according to Montez. There were a total of 10 people involved in the crash, according to officials. 
Three lanes of the 10 Freeway were expected to be closed until about 4:30 p.m. Sunday while officials investigated the crash.