Los Angeles County's curfew at 6 p.m. for the night of June 1
LOS ANGELES - A curfew was issued for Los Angeles County Monday following another chaotic night across the county and nation.
The county extended the order that was issued Sunday. The curfew is for 6 p.m., even though earlier phone alerts were sent out saying it had moved up to 5 p.m. The curfew will be in place until 6 a.m. Tuesday.
Any violation of the order is a misdemeanor, punishable by a fine of up to $1,000 or by imprisonment for a period not to exceed six months.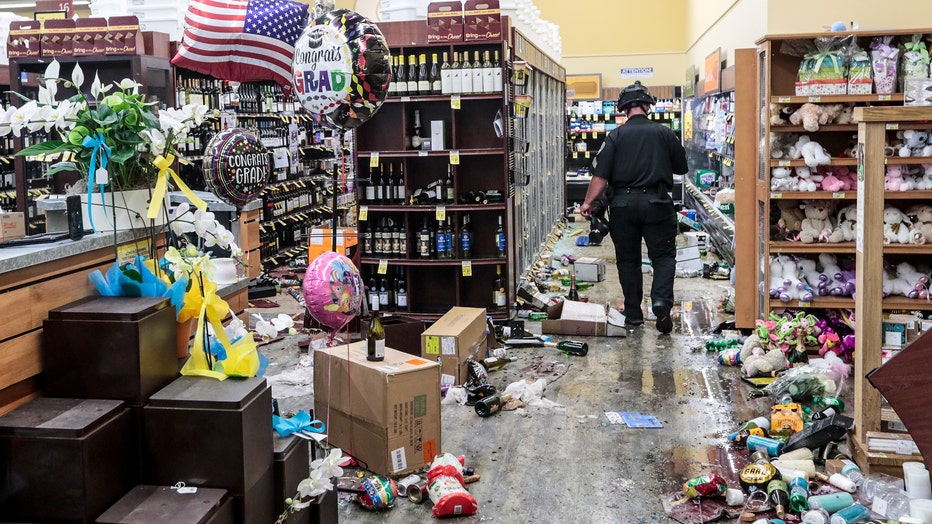 Santa Monica, CA, Sunday May 31, 2020 - A police officer inspects the damage to a Vons supermarket hours after it was looted. (Robert Gauthier / Los Angeles Times via Getty Images)
Peaceful protest's in the county on Sunday over the death of George Floyd at the hands of a Minneapolis police officer were marred by a separate group of individuals who looted stores and caused mass destruction.
RELATED: Peaceful protesters don't want message behind George Floyd rallies overshadowed by violence
Many government officials both locally and nationwide have continued to clarify the difference between protesters and looters, saying that the latter came with the intent of capitalizing on the large crowds and fragile state of the nation from the coronavirus pandemic for personal gain.
The curfew order does not apply to peace officers, firefighters, and National Guard or other military personnel deployed to the area, individuals traveling to and from work, people experiencing homelessness and without access to a viable shelter, and individuals seeking medical treatment.