Countywide curfew issued after violent unrest throughout parts of LA
LOS ANGELES - A curfew has been issued following another day of violence, looting and destruction throughout parts of Los Angeles city and county. This order does not apply to peace officers, firefighters, and National Guard or other military personnel deployed to the area, individuals traveling to and from work, people experiencing homelessness and without access to a viable shelter, and individuals seeking medical treatment.
Any violation of the order is a misdemeanor, punishable by a fine.
The Los Angeles County curfew supersedes all the other city curfews.
LOS ANGELES COUNTY: The Los Angeles County curfew starts at 6 p.m. Sunday and will go through 6 a.m. Sunday, according to Los Angeles County Supervisor Janice Hahn. This announcement comes as thousands of protesters took to the streets of Los Angeles, Santa Monica, Long Beach and several other cities.
SANTA MONICA: Protests grew in Santa Monica while other crowds were seen looting, vandalizing and stealing from stores on Third Street Promenade. In response to that activity, city officials have imposed a curfew from 4 p.m. Sunday through 5:30 a.m. Monday. Santa Monica police is urging the public to stay away from the downtown and civic center area.
WEST HOLLYWOOD: The city of West Hollywood said they will extend their curfew for a second night as well, starting at 8 p.m. Sunday to 5:30 a.m. Monday.
LONG BEACH: The city of Long Beach will have a curfew from 8:00 p.m. Sunday night through 5:00 a.m. Monday morning.
BEVERLY HILLS: Beverly Hills officials have issued a curfew in the city's business district from 1 p.m. Sunday to 5:30 a.m. Monday, and a citywide curfew from 4 p.m. today to 5:30 a.m. Monday.
The curfews are in response to continued violence and looting throughout the city following protests for the death of George Floyd. 
The Los Angeles Police Department estimates there were 398 arrests on Saturday night and Sunday morning related to the police protests.
During a press conference Sunday afternoon, LAPD Chief Michel Moore said at least five officers were injured with two being hospitalized. He says one officer was hit on the head with a brick and suffered a fractured skull; the officer is expected to recover. 
Moore also said he was handing out his business card to demonstrators who complained about police conduct. He says the department will take complaints from anyone who has an accusation of excessive force or unlawful arrests by the LAPD.
RELATED: Large protests continue in Los Angeles in response to death of George Floyd
Local stores looking forward to reopening met with frustration as looters vandalize storefronts
On Saturday thousands of people gathered at Pan Pacific Park near the Grove for a demonstration. The protest started peacefully but as time went on the crowd grew and violence emerged. 
Several people were seen vandalizing property, looting businesses, and setting fires to buildings and vehicles.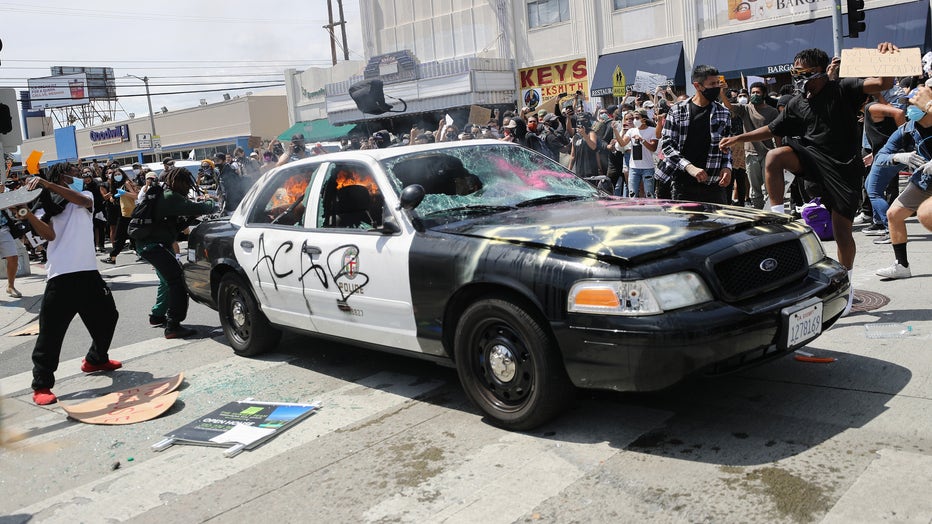 LOS ANGELES, CALIFORNIA - MAY 30: An LAPD vehicle begins to burn after being set alight by crowds during demonstrations following the death of George Floyd on May 30, 2020 in Los Angeles, California.(Photo by Mario Tama/Getty Images)
Mayor Garcetti and Chief Moore said they know Angelenos are upset and want to voice their thoughts… but they should do so peacefully and without violence. 
"We all clearly saw something that had nothing to do with justice. We saw people in our city smashing windows, stealing and beating. We are bigger than that and I know we are better than that," Garcetti said Sunday. 
Garcetti says he is committed to cleaning the streets and providing help to those who were impacted, including small businesses. 
Due to the protests, the mayor said some COVID-19 testing sites have been closed due to safety concerns. It's not known when they will reopen; but the city's largest site at Dodger Stadium will stay open for the community.
Get breaking news alerts in the FOX 11 News app. Download for iOS or Android.