Little Tokyo shoppers, diners run for their lives after possibly armed man runs toward their direction
LOS ANGELES - A car chase that stretched across Los Angeles County took a horrifying turn in Little Tokyo. The car chase suspect crashed a car at a downtown LA intersection, ditched the Mercedes-Benz he was in, and then began sprinting towards nearby businesses in Little Tokyo, causing widespread panic among shoppers.
Four suspects were crammed inside a white Mercedez-Benz sedan and the Los Angeles County Sheriff's Department recognized the car from a police chase that took place in the Glendale area earlier in the week.
When LASD tried to get the Mercedes to pull over, the driver reversed, hit a deputy cruiser and a car chase ensued.
The Mercedes led LASD on a chase across parts of South Los Angeles before crashing the car in Little Tokyo.
If you're in distress due to recent incidents of mass violence, please know that there is help is available. Talk to experienced counselors at the Disaster Distress Helpline for 24/7 emotional support. Call or text 1-800-985-5990. Click here for additional resources.
After the suspect ditched the car, deputies at the scene began warning the public over an intercom at nearby shops and restaurants that the suspect may be armed and that they should not approach the suspect.
The announcement, in addition to the sight of the suspect running toward their direction, made the nearby shoppers sprint for the exits as if they were in an active-shooter situation.
Two of the four suspects tried to carjack nearby cars but couldn't pull it off. Both were arrested on the spot.
The other two suspects remain on the run.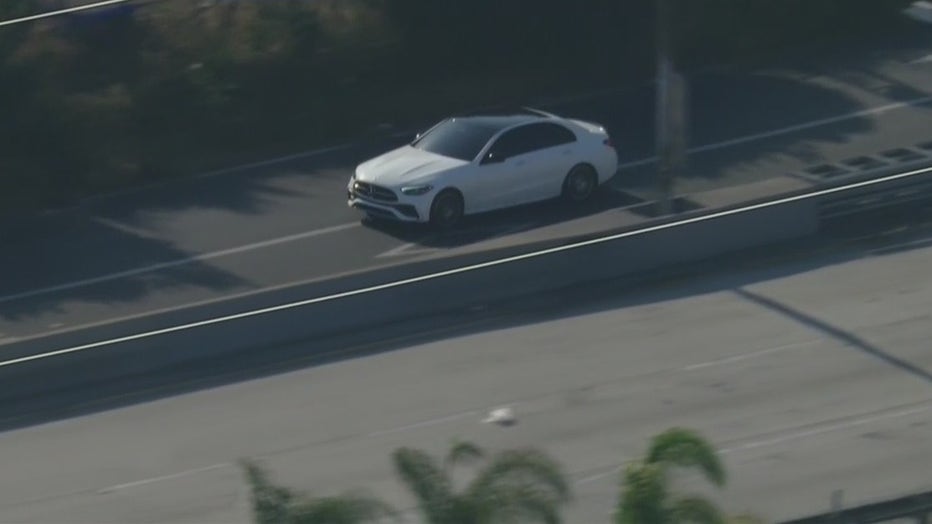 No injuries were reported.