LAPD, LAFD address frustrated Sunland-Tujunga residents over delayed arson investigation
LOS ANGELES - Los Angeles city investigators, which includes LAPD and LAFD, met with the Sunland-Tujunga area residents to give an update on the arrest of a suspected serial arsonist accused of setting fires to at least two dozen vehicles.
Many in the community questioned why it took months to call arson, which was something many residents had suspected from the beginning. 
The frustrated residents showed us photos of burned-up bottles on charred vehicles – which they claim they also showed to investigators – only to be told it was not suspicious. 
The suspected serial arsonist, believed to be Guadalupe Resendiz, is seen on a security video using what looks like a bottle, for ignition on the fire he was arrested shortly after. 
PREVIOUS COVERAGE: Homeless man arrested, charged in series of car fires in Sunland-Tujunga area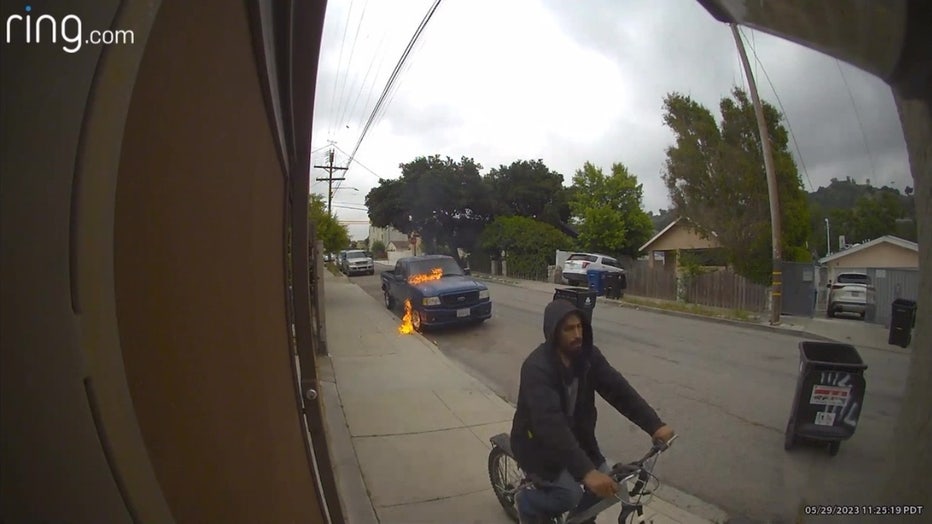 Victims like Richard Poquette, the owner of the truck seen on the video, feel the fires in Sunland-Tujunga were not taken as seriously as they would have been in other neighborhoods. In contrast, the Fairfax District, where after three recent fires, investigators were putting out the word there was an arsonist targeting the area.  
Poquette had just returned home from the hospital, the day his truck was burned. Recuperating from a leg amputation, he was in the middle of updating his vehicle insurance and is now being told the now-destroyed will not covered.
A GoFundMe page has been launched for Poquette.
"It's hard for me," he said. "But this is a working-class neighborhood and many of the other people who lost their vehicles have it even worse. We need to know investigators are really taking this seriously now, because it doesn't seem they did before."