LAPD investigating leak over call for 'extra' patrol for car registered to Councilman's aide
LOS ANGELES - The Los Angeles Police Department is investigating after information was leaked regarding a call allegedly made by an aide to an LA City Councilmember, requesting "extra patrol" on a white Lexus, according to a report from the LA Times.
On the night of Feb. 1, the LAPD allegedly received a request for "extra patrol" on a white Lexus registered to David Mai, an aide for City Councilman Hugo Soto-Martinez. The call came to light after someone shared a screenshot of a laptop from an LAPD cruiser with information about the request.
"Extra patrol throughout night for parked white Lexus belonging to councilmember. (Vehicle) broken down," the screen read, in part.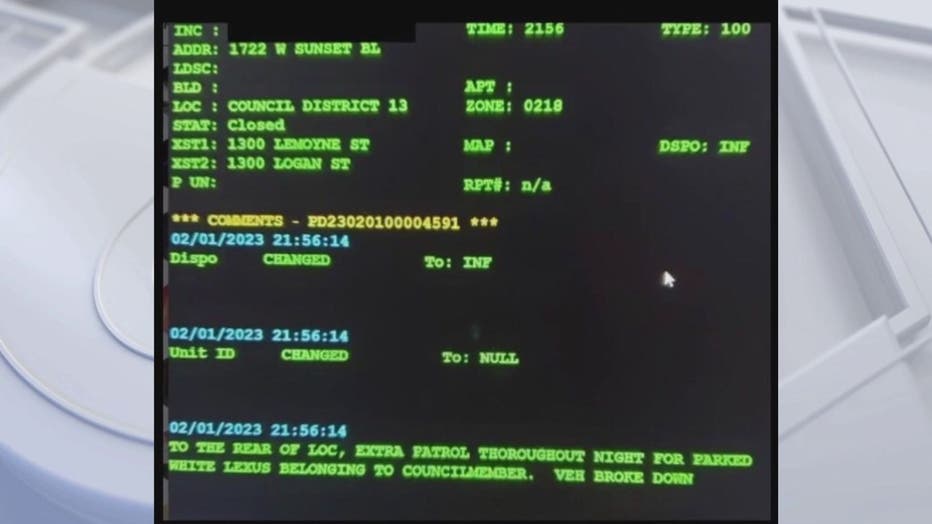 A screenshot of a computer inside an LAPD cruiser, detailing an alleged call made by LA Councilman Hugo Soto-Martinez's office, requesting increased patrol on a a parked, broken down white Lexus.
PREVIOUS COVERAGE: Hugo Soto-Martinez's staffer called LAPD asking for 'extra patrol' on Lexus; Public points out hypocrisy
LAPD Capt. Kelly Muniz told the LA Times that the department has launched and internal investigation into who shared that screenshot. That information typically isn't shared with the public because it can be sensitive and include investigational information. 
Many, including LAPD officers, have criticized the alleged request from Soto-Martinez's office as hypocritical. Soto-Martinez, who represents LA's District 13, has identified himself as an abolitionist on the issue of policing.
"Police officers have so much more to do than to go and do X patrol on anyone's vehicle," LAPD Sgt. Jerretta Sandoz said last week when she heard about Soto-Martinez's office's request. "When you are anti-police, abolish the police… then why are you calling for help?"
FOX 11's Gina Silva attempted to interview Mai, to whom the white Lexus is registered, but he refused to respond to questions.
The LAPD has not confirmed the investigation to FOX 11.