LA County deputy slams woman to ground outside Lancaster grocery store in cell phone video
LOS ANGELES COUNTY, Calif. - A viral cell phone video is raising questions on a deputy's use-of-force tactics. This comes as a Los Angeles County deputy slammed a woman accused of shoplifting to the ground and kept her down outside a grocery store in Lancaster.
The woman who took the video, Lisa Michelle Garrett, says she used to work in security. So when she saw several loss-prevention officers escorting the couple out of the grocery store on June 24, she started recording. The video shows the man was handcuffed, however, the incident took a different turn when it was time to handcuff the woman. 
In the video that shows the confrontation between the Los Angeles County Sheriff's Department deputies and the couple, the woman is heard screaming about rights when the LASD deputy approached her.
The deputy then threw her to the ground and pepper-sprayed her face.
RECOMMENDED: Community rallies for woman slammed to ground by LA County deputy outside Lancaster grocery store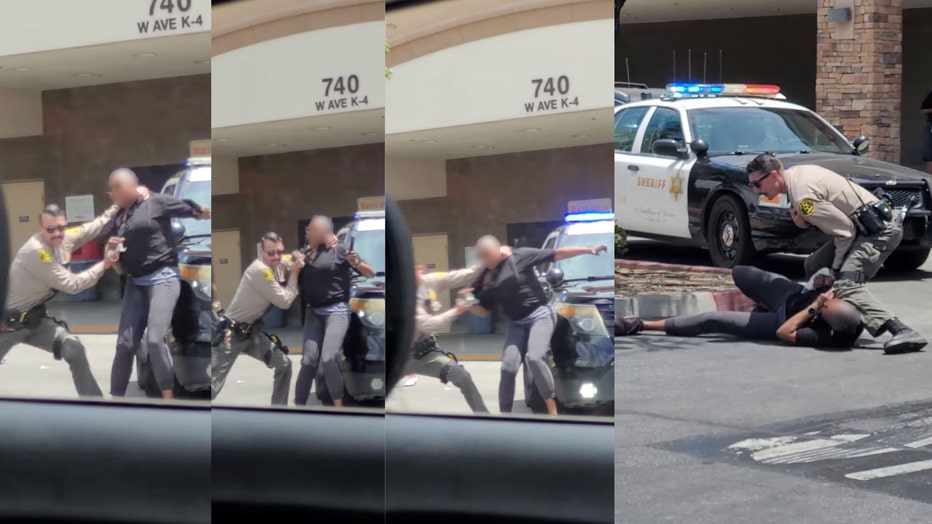 Garrett, who recorded the incident, said the woman in the video was saying "I can't breathe."
It's not clear from the cell phone video if the deputy's knee was on her neck or back. 
The LASD released the following statement:
"The Los Angeles County Sheriff's Department has opened an investigation into this incident. While the Department does not make statements related to ongoing investigations, Sheriff Luna has made it clear that he expects Department personnel to treat all members of the public with dignity and respect, and that personnel who do not uphold our training standards will be held accountable. In the interest of transparency with our community, the Sheriff's Department is releasing body-worn camera video from the incident."
Karen Laser, a user-of-force expert, said the video doesn't show what happened before or what deputies were told about the couple. She also said it's tough to jump to conclusions just off the one viral video.
"There's always two sides of the story and sometimes three and four," Laser said.
On Wednesday, July 5, LA County Sheriff Robert Luna said the investigation is ongoing. He chose to not name the deputy, in addition to the man and woman involved in the confrontation with LASD, because the department is still gathering more information.
"I'd like some justice for that couple," Garrett said. "I don't know who they are." 
WinCo has not released a statement regarding the incident.