LA County approves $145 million in cuts to Sheriff's Department budget
LOS ANGELES - In the face of a massive pandemic induced budget shortfall, the L.A. County Board of Supervisors voted on Monday to approve slashing $145 million from the Sheriff's Department budget.
The county approved a budget that would slash $453 million in county spending to make up for a $940 million budget shortfall with the cuts being spread across multiple departments, though LASD was hit the hardest by far.
"It's just going to cause a lot of hurt to a lot of people," said Sheriff Alex Villanueva.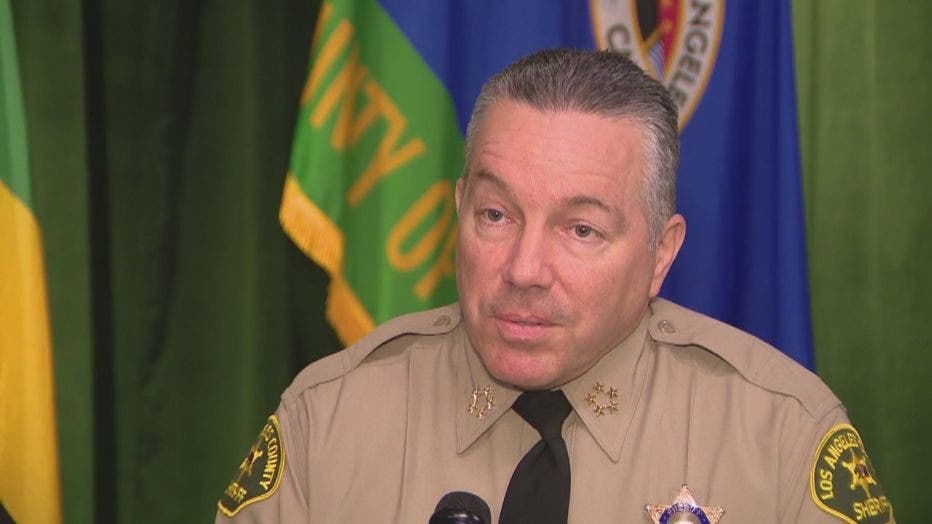 Villanueva told FOX 11 the $145 million in cuts is on top of the $400 million he says LASD is already underfunded, and that more than half of the county's layoffs will fall on LASD.
Get breaking news alerts in the FOX 11 News app. Download for iOS or Android.
As a result, he says he will have to get rid of up to 345 LASD employees, including uniformed deputies.
"We're cutting into the bone of major activities that keep the community safe," Villanueva said.
RELATED: L.A. County funds $63 million deficit for sheriff's dept.
Villanueva says those activities include the Special Victims Bureau, which investigates crimes involving children, rape, and human trafficking, the Safe Streets Bureau, which is responsible for gang enforcement, the Fraud and Cybercrimes Bureau, and the Major Crimes Bureau, all units he says the county has recommended he get rid of to save money.
RELATED: LA County Board tells Sheriff Villanueva not to close Altadena, MDR stations
"Why would it all fall on law enforcement,?" Villanueva said.
"Because they want to defund the Sheriff's Department and they want to listen to the mob who is demanding defund the police."
RELATED: Sheriff Villanueva says proposed budget cuts threaten public safety
But during Monday's Board of Supervisors meeting, Supervisor Kathryn Barger said that's not the case."I would like to take a moment to reiterate my commitment to public safety," Barger said.
"Safety and well being for communities are crucial. The budget today recommends vast cuts to the public safety department primarily due to AB-109 revenue.
AB-109 is money the county receives from the state which is dependent upon sales tax.
RELATED: Stay up to date on all coronavirus-related information 
Given the pandemic, this funding has dropped significantly and unfortunately, those county departments that rely on this fund are faced with this shortfall. It is my hope that these cuts can be restored in September to further support law enforcement and public safety.
"That's nonsense," Villanueva said.
"There's nothing that restricts the Board of Supervisors from shifting funds between property tax, sales tax, any type of revenue that comes from sales tax and property tax, they can shift it around at will or they can defund it at will and they're showing what their priorities are."
Villanueva said he will now have to go back to the drawing board and reformat the entire department to abide by the budget cuts, and he's pledging to not get rid of their key specialized units."I'm gonna stand up for victims of crime, even if nobody else does."
"But we're not going to abandon them, we're gonna be with them through thick and thin, we'll find a way," Villanueva said.