'Stay on the freeways': LA Mayor Bass asks drivers to avoid side streets in DTLA amid 10 Freeway closure
LOS ANGELES - Local and state officials provided an update Monday morning as a section of the 10 Freeway through downtown LA was closed indefinitely in both directions after a massive pallet yard fire erupted in the area over the weekend.
Data shows an average of 300,000 people travel that section of the freeway daily.
The freeway was shut down in both directions between Alameda Street and Santa Fe Avenue, with the closure also affecting connectors to the 5, 101 and 60 freeways. On Sunday, California Gov. Gavin Newsom proclaimed a state of emergency to facilitate cleanup and repairs.
"The damage will not be fixed in an instant," Los Angeles Mayor Karen Bass said during Monday morning's news conference. "Engineers have worked all night and are working right now to determine our path forward."
Officials asked travelers to plan ahead, check their navigation systems and to give themselves extra time. 
PREVIOUS COVERAGE:
"I have made it clear with our local, state, and federal partners that any unnecessary bureaucracy or delays are not happening here. Losing this stretch of the 10 Freeway will take time and money from people's businesses," Mayor Bass added.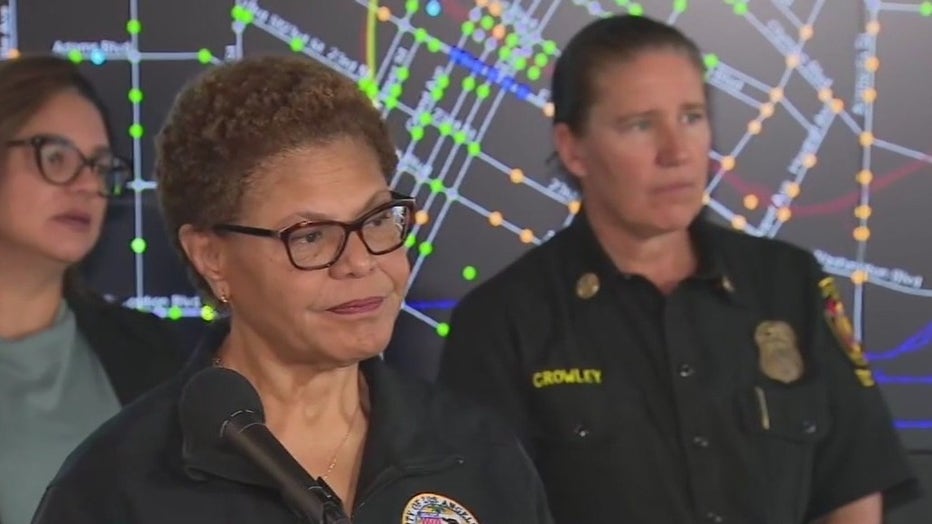 Los Angeles Mayor Karen Bass provided an update on the 10 Freeway closure on Monday, Nov.13.
"Unless you have to enter downtown, stay on the freeways. There will be clear signage routing you around the closure," she said.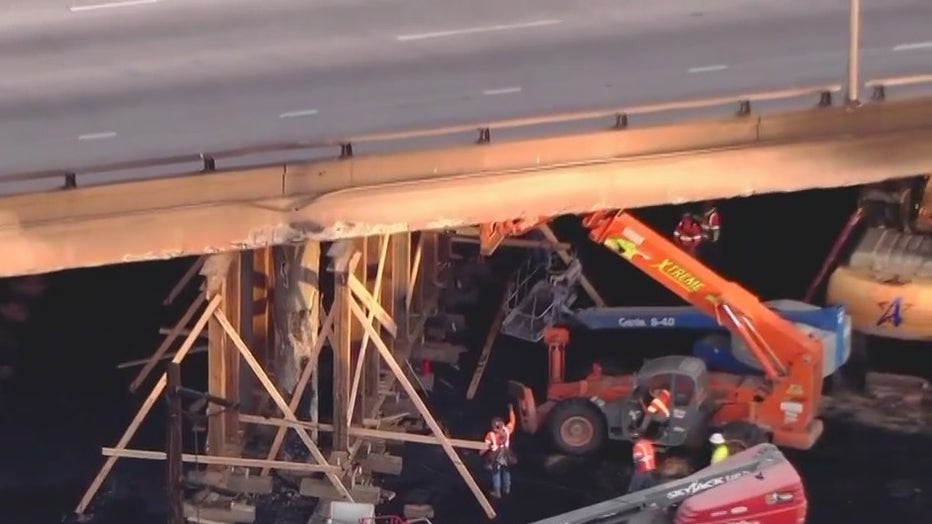 An aerial view from SkyFOX shows the damage on the 10 Freeway in downtown LA.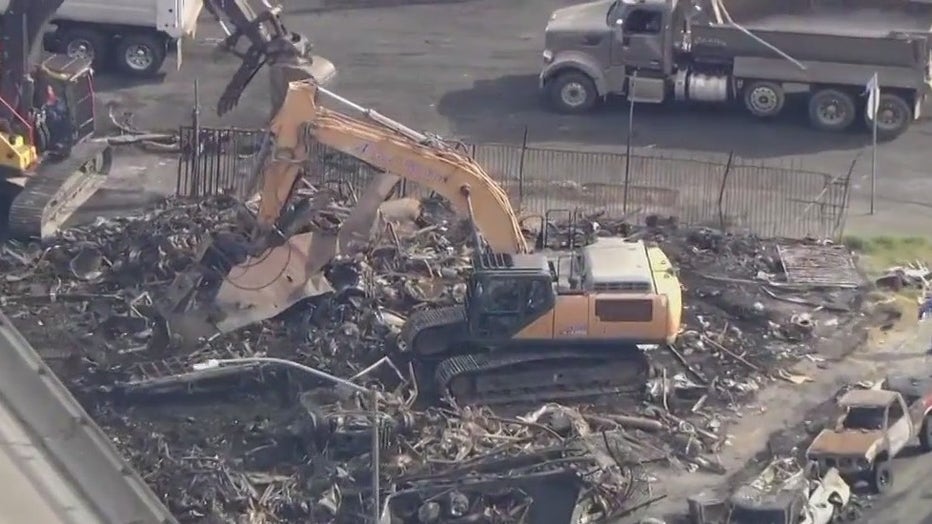 Images from SkyFOX shows the aftermath of the 10 Freeway fire in downtown LA. 
Toks Omishakin, Secretary of the California Transportation Agency, said he met with Mayor Bass and encouraged commuters to use public transit or to use the 5, 110 or 101 freeways around the closure. 
In addition, Mayor Bass asked employers to allow workers in the area to telecommute if possible. 
Doug Young, an assistant chief with the CHP, provided the following freeway detours:
Drivers on the eastbound 10 Freeway will be diverted at Alameda Street;
Drivers on the westbound 60 Freeway will be diverted to northbound 5 or northbound 101;
Drivers on the southbound 5 Freeway will be diverted onto the westbound 10 but must take the first exit at Mateo Street;
Drivers on the northbound 5 Freeway must divert to northbound 101.
"We will need this to be able to relieve congestion and get people from Santa Monica to San Bernardino and back," Omishakin said. 
Transportation officials said they may have to fully demolish the one-mile stretch of the 10 Freeway.
Mayor Bass said she's been in touch with White House officials. She said U.S. Secretary of Transportation Pete Buttigieg is sending a federal highway administrator to the scene. 
On Monday, California Gov. Gavin Newsom said the preliminary investigation revealed that the fire was likely caused by arson.
Authorities added they were determined to get the bridge open as quickly and safely as possible. 
City News Service contributed to this report.