Interactive map: View all the Los Angeles neighborhoods with confirmed COVID-19 cases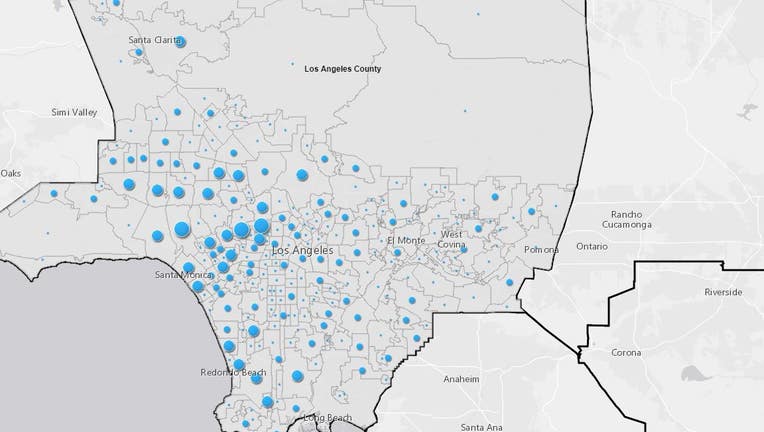 article
NORTHRIDGE, Calif. - The number of confirmed COVID-19 cases in Los Angeles County continues to rise. 
As of Saturday there are 1,804 cases and 32 deaths related to COVID-19 in LA County. 
Hoping to better understand how COVID-19 is impacting people at the local level, California State University, Northridge geography professor Steven Graves created interactive maps that track the virus county by county on the national level and neighborhood by neighborhood in Los Angeles County.
Professor Graves says there are similar maps to this but none that show each specific neighborhood in Los Angeles County.  He referenced one map that only showed a big red dot on California. 
Click here to view map of Los Angeles County cases 
"That doesn't really tell me anything," Graves said in a statement.
"We have more than 10 million people here in Los Angeles County. Up in Alpine County, there are only about 1,200 people. That's a big difference. That big red blob doesn't tell me if the number of cases has grown in Sonoma County, L.A. County or in Chico."
He says the maps created by him and his students give people a clearer and better understanding of what is happening locally.
Professor Graves hopes by tracking the number of cases in each neighborhood might give people a better understanding as to why some neighborhoods like Brentwood and West Hollywood have higher case numbers compared to other neighborhoods. 
Click here to view map on coronavirus cases by county 
Graves also created a map that tracks COVID-19 county by county at the national level.
"Places that have population density, a lot of tourism and international airports — places like New York, Los Angeles and San Francisco — are going to have high rates of the virus," he stated. 
Click here to view presentation
Graves also created a presentation that helps walk people through the data on the national map. 
The maps are based on data provided by Coronavirus Resource Center at Johns Hopkins University and can be found on CSUN's Center for Geospatial Science and Technology's webpage.