How #ViralKindness can help keep pets in homes during the COVID-19 crisis
LOS ANGELES - With COVID-19, we are all fighting against an invisible enemy together.
The way we will defeat this enemy is neighborhood by neighborhood. Inspired by the #ViralKindness coronavirus support cards created in England, Best Friends Animal Society is proud to offer a version that includes options for helping neighbors with their pets.
"This is the biggest challenge our nation has had since World War II and just like then, we win the war when we pull together as a nation -- but it starts in our own backyards," said Julie Castle, CEO of Best Friends Animal Society.
Get breaking news alerts in the FOX 11 News app. Download for iOS or Android.
"If you are healthy and looking for a way to support your community during these extraordinary times, Best Friends has created a Community Kindness Card you can print out and leave for your neighbors on their doorstep, exchange a wave through the window and affirm that we will get through this together, just six feet apart," Castle said.
Providing support and resources to pet owners in need is crucial to keeping more dogs and cats out of shelters. With so many people facing unexpected circumstances due to the coronavirus pandemic, offering to walk a dog or donate supplies is one simple way you can be a part of keeping pets and families together.
People from all over are invited to visit http://bestfriends.org/viralkindness to download the printable cards and to share on social media with video or photos when distributing them, using the hashtag #ViralKindness.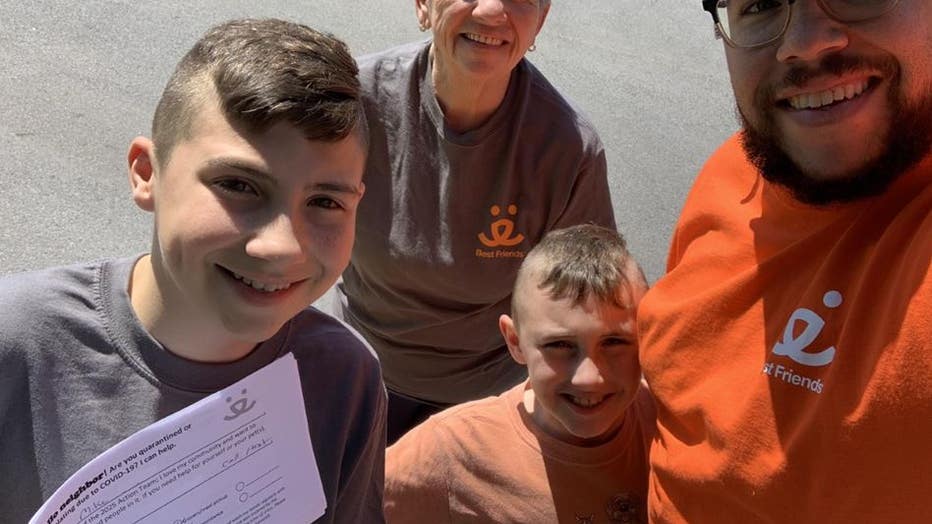 Michael Bricker (R), director of operations for Best Friends Animal Society, recently passed out #ViralKindness cards in his Texas neighborhood with the help of his children and grandmother.
Recently, Michael Bricker, a Best Friends staff member based in Edinburg, TX, his children and their grandparent filmed their walk letting their neighbors know they were ready to help them and their pets and posted it to their own Facebook page for their friends to see. 
RELATED: CoronavirusNOW.com, FOX launches national hub for COVID-19 news and updates.
As Castle said, "Remember, the point is to spread kindness — not germs — so use precautions and place cards only where you can do so without putting yourself or others at risk. Wash your hands thoroughly before and after any delivery and maintain social distancing." 
See the CDC guidelines for protecting yourself from COVID-19 for more information.
Additional resources can be found at http://bestfriends.org/actionteam.
Please email action2025@bestfriends.org with any questions or to share results.  
Note: Only authorized U.S. Postal Service delivery personnel are allowed to place items in a mailbox. Placing unstamped flyers in a person's mailbox is against federal law; please distribute Community Kindness Cards accordingly (e.g., slide under your neighbor's door, post on your community's announcement board).