Group of suspects steal hammers, crowbars at The Home Depot in Lakewood
LOS ANGELES - The LA County Sheriff's Department is investigating a 'flash mob' robbery that occurred at a Home Depot in Lakewood on Black Friday. 
The Los Angeles County Sheriff's Department responded to reports of a robbery around 7:45 p.m. at the Home Depot store in the 5000 block of Hardwick Street in Lakewood.
According to LASD, eight people – between the ages of 15 and 20 – stole hammers, crowbars and other tools from the store. They say the entire hammer section was cleared out… enough items were taken to be considered grand theft. The suspects took off with an approximate value of $400 worth of tools. 
"We tried to stop them," store employee Luis Romo told FOX 11. "We closed the front entrance and they put their sledgehammers up and whoever got in the way, they were going to hurt them."
The group threatened one customer, "but he got away," Romo said.
RELATED: Black Friday: Increased police presence around LA malls due to recent robberies
The suspects all fled the store in getaway vehicles parked outside. According to the sheriff's department, one of the getaway vehicles was a red Mercedes Benz with severe damage to the front. The department says possibly 10 vehicles were involved. 
Around 9 p.m. Friday, officers with the Beverly Hills Police Department spotted a red vehicle with front-end damage matching the description of the vehicle used in the robbery. They conducted a traffic stop and the four occupants were taken into custody.
They also found new tools in the vehicle.
The suspects were identified as Everett Lestorkindle of Hawthorne, 22, and Los Angeles residents Bronz Jackson, 20, Shawn Jones, 19 and Daniel DeHughes, 19.
Lestorkindle, Jackson and Jones were being held in lieu of $20,000 bail and are due Tuesday in the Bellflower Courthouse. DeHughes was being medically treated prior to being booked.
"There are still several more suspects, and suspect vehicles, being sought in this flash mob burglary and many more like it,'' the sheriff's department statement said.
Get your top stories delivered daily! Sign up for FOX 11's Fast 5 newsletter. And, get breaking news alerts in the FOX 11 News app. Download for iOS or Android.
This robbery was another in a series of so-called "flash mob" or "smash-and- grab" robberies that have occurred across Los Angeles County in the past week, several of them taking place on Black Friday.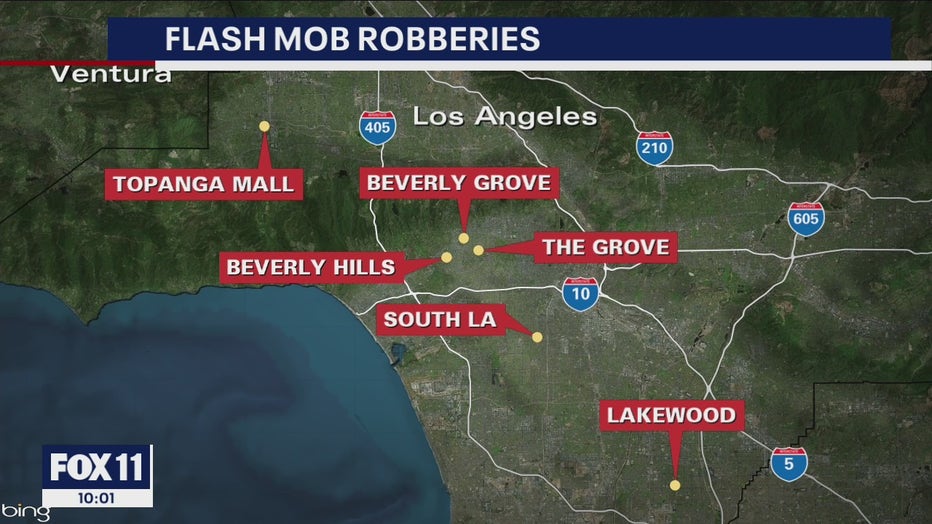 On Wednesday, robbers attacked a security guard and stole designer handbags worth an estimated $25,000 from the Nordstrom store at the Westfield Topanga mall in Canoga Park. Also Wednesday, "flash mob" suspects entered several stores in the 8500 block of Beverly Blvd at the Beverly Center and grabbed merchandise without paying and ran out, the LAPD said.
RELATED: Police investigating robbery at Nordstrom in Canoga Park, security guard possibly pepper-sprayed
3 Nordstrom smash-and-grab suspects who used hammers to target store at The Grove arrested
Those crimes occurred two days after a smash-and-grab robbery by a mob of at least 20 people at the Nordstrom store at the upscale Grove shopping center in the Fairfax district Monday evening. The suspects in that robbery fled the scene in at least four vehicles but were later arrested following a chase.
Tune in to FOX 11 Los Angeles for the latest Southern California news.