Fullerton police release footage from February pursuit shooting
FULLERTON, Calif. - Police in Fullerton have released body and helicopter camera footage from an incident last month in which officers shot and killed a pursuit suspect after he crashed.
Austin Heiselman was shot and killed back on Feb. 10, 2023. Around 1:10 a.m. that morning, police in Fullerton found Heiselman in his car near the intersection of Harbor Boulevard and Chapman Avenue. According to police. Heiselman's car matched the description of a car wanted in connection with an armed robbery in San Bernardino County. 
When police tried to pull Heiselman over, he drove off, leading police on a chase through Fullerton and La Habra. During the chase police said Heiselman waved what they thought was a handgun out the window of the car. Radio audio from the chase released Monday detailed that Heiselman blew through several red lights and that officers tried and failed to stop him using a PIT maneuver. 
The chase came to an end when Heiselman blew through a red light at the intersection of Beach and Imperial boulevards and hit another car driving through the intersection. Footage from the helicopter over the chase showed Heiselman's car narrowly miss tractor trailer before hitting another car. Heiselman's car immediately flipped over and to the side of the road before catching fire. 
SUGGESTED: Lynwood pursuit crash: Married couple coming home from quinceañera among 3 killed
After the crash, Heiselman got out of the car and ran toward a nearby shopping center. Officers chased him and deployed one of their K9 units as well. Body camera footage showed officers chasing Heiselman when they rounded the corner and saw Heiselman "take a shooting stance" according to police. That's when he was shot.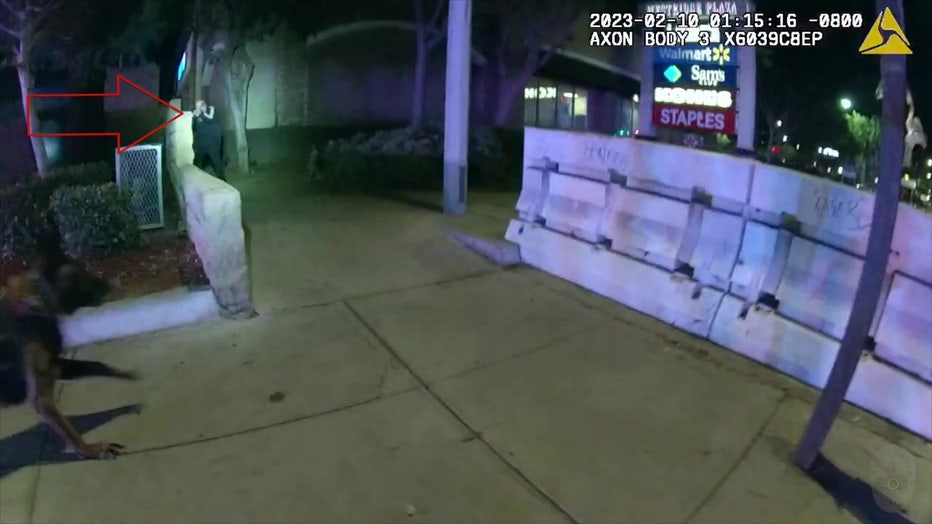 Austin Heiselman in "a shooting stance" before being shot by Fullerton Police officers. Heiselman was unarmed. Photo courtesy of Fullerton Police Department
SUGGESTED: Dramatic body cam footage released in deadly 2021 La Habra police shootout
Paramedics then attempted to save Heiselman's life but were unsuccessful. 
When officers searched Heiselman's body they found that he was unarmed, but had two replica guns and replica ammo in his vehicle.
According to 911 audio released Monday, Heiselman's father called the La Habra Police Department as the pursuit was getting underway.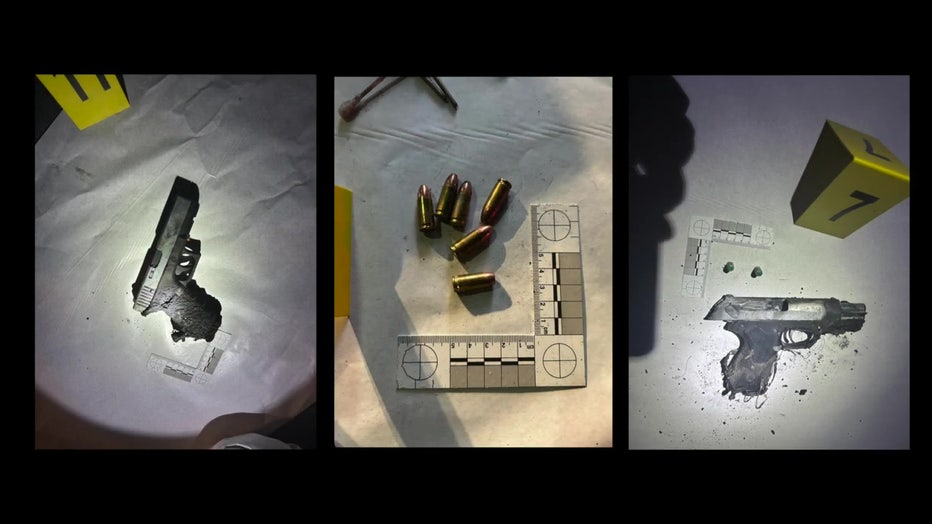 Replica guns and ammo found in Austin Heiselman's car after a pursuit through Fullerton and La Habra in February 2023.
"He told me he wants to die suicide by cop," Heiselman's father said in the audio. 
The California Department of Justice is investigating the shooting.