Community outraged after 18-year-old man killed in deputy-involved shooting in Gardena
GARDENA, Calif. - A deputy-involved shooting investigation was underway Friday after an 18-year-old was fatally shot near the business his family members say the man worked for. 
The shooting occurred near the business located in the 400 block of Redondo Beach Boulevard near S. Figueroa Street. 
Just before 6 p.m. Thursday, two deputies from the Compton Sheriff's station spotted the suspect, according to Los Angeles County Sheriff's investigators. When the man saw the deputies, he allegedly pulled out a handgun before running away. 
Authorities say a short foot chase ensued southbound on Redondo Beach Blvd. and through an alleyway where the suspect was wounded.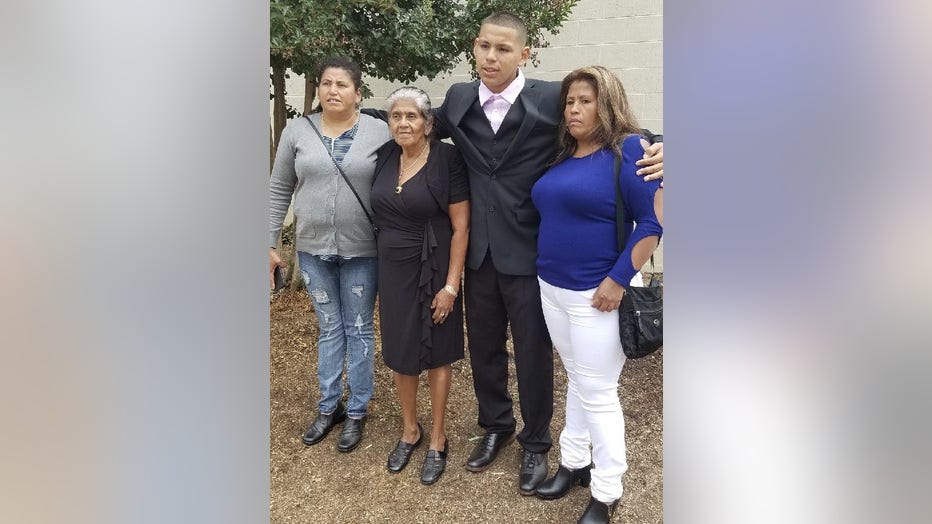 The suspect was pronounced dead on the scene. No deputies were injured. 
A gun was recovered from the scene and the suspect was not wearing a security guard uniform at the time of the shooting, according to authorities.
It was unclear if the suspect fired his weapon, but investigators say several shots were fired by one of the deputies. 
"I turned around and saw two male white officers running up into the body shop where not even less than a second later I heard rapid gunshots," witness Georgina Laird told FOX 11.  She heard "about four to five shots fired..," and "never heard them say 'freeze'. I never once heard them say 'stop.' Nothing like that."
Family members identified the man who was shot and killed as 18-year-old Andres Guardado. They said he was working as a part-time security guard for the Freeway Auto Body Shop at 420 Redondo Beach Blvd.  
"Police never gave us a lot of info," said the suspect's uncle Noe Abarca said. He describes his nephew as fun-loving and optimistic. 
Guardado was going to school to become a registered nurse. 
An investigation by the LA County Sheriff's Homicide and Internal affairs bureau is underway, which is the protocol when a deputy-involved-shooting occurs.  
Get breaking news alerts in the FOX 11 News app. Download for iOS or Android.