EXCLUSIVE: LA County paying PR firms $1.9 million to help guide COVID-19 messaging
LOS ANGELES - Despite having a fully staffed county communications team, FOX 11 has exclusively obtained contracts showing Los Angeles County is spending $1.9 million to hire two public relations firms for the purpose of guiding the county's coronavirus messaging.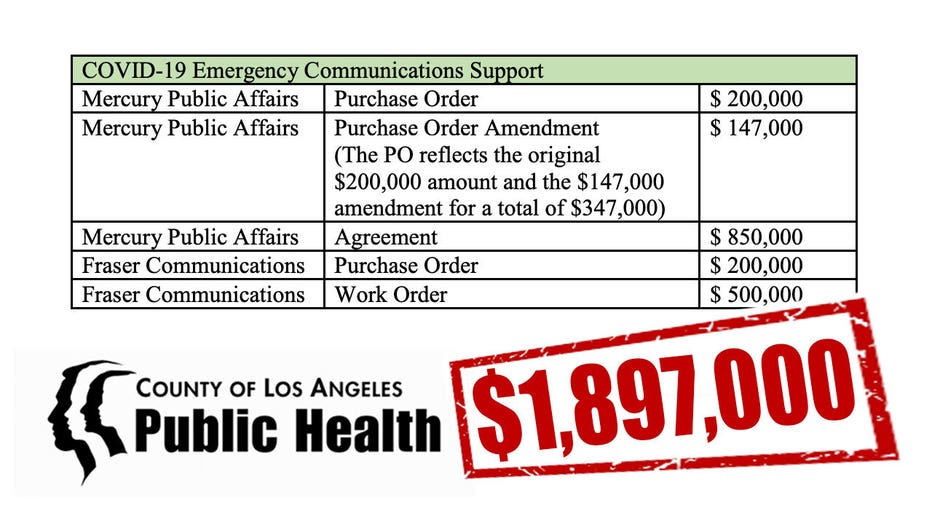 In April, FOX 11 obtained documents showing that L.A. County awarded no-bid contracts to Mercury Public Affairs and Fraser Communications for $200,000 each for the purpose of "COVID-19 Emergency Communications Support".
RELATED: LA County spending $400,000 to hire 2 PR firms to guide coronavirus messaging
The total cost to the county at the time was $400,000.Now, FOX 11 has obtained documents showing L.A. County has not only renewed the contracts for both PR firms but has substantially increased the amounts they are being paid.
According to the contracts, Mercury Public Affairs is being paid a total of $1.2 million for communications consulting through October 31st, while Fraser Communications is being paid $700,000 for consulting services through June 30th.
The county's expenses now total $1.9 million, a nearly fivefold increase since April. Fraser's contract states that it will be responsible for drafting press releases and talking points, as well as monitoring social media to gauge the public's perception of how L.A. county is responding to the pandemic.
In 2012, Fraser's CEO, Renee Fraser, paid $91,530 to settle federal charges of insider trading of a client's stock. Mercury's contract dictates that $350,000 of county funds will be spent on "Multicultural and Ethnic Outreach and Communications", part of which includes "recruiting and deploying non-County messengers, celebrity influencers, and other surrogates to trusted community messengers for County messaging."
Campaign finance reports reveal that Fabian Nunez, a former lawmaker in the California State Assembly, now a consultant at Mercury, donated the maximum $1,500 allowed to L.A. County Supervisor Board Chair Kathryn Barger's campaign in February, the month before the no-bid contract was approved.
RELATED: Stay up to date on all coronavirus-related information 
Barger previously told FOX 11 the donation had no bearing on the county's approval of the contract."It's public information, it's reported, it's legal, it bared no relevance to this contract being awarded, as a matter of in fact this contract was not signed by the board," Barger told FOX 11.
But the renewed Mercury contract obtained by FOX 11 shows that Celia Zavala, the Executive Officer for the Board of Supervisors, did, in fact, sign off on it on behalf of the Board.L.A. County's decision to spend $1.9 million for coronavirus messaging consulting comes at a time when the county is grappling with how and where to cut its ballooning budget as a result of the pandemic.
The Board of Supervisors has had a very public feud with L.A. County Sheriff Alex Villanueva.
They have made several moves to reign in his budget, and have repeatedly instructed him to cut his costs.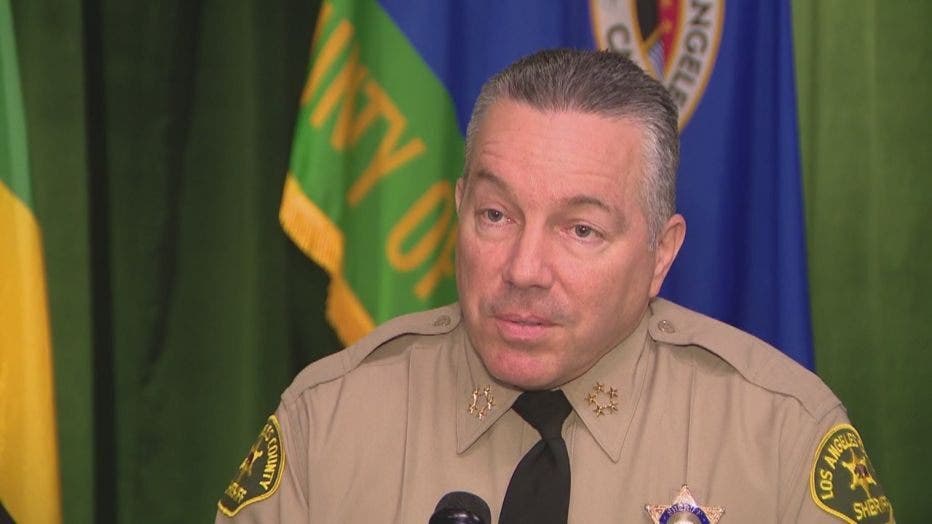 Sheriff Villanueva tells FOX 11, the county's hiring of these PR firms is hypocritical after he says they cut $500 million from his department."That [$1.9 million] would probably pay for at least 10 deputies working our homeless service outreach team for example, that I have no funding for and I had to tell them to pack it up, we can't afford this anymore," Villanueva said.
"When I'm picking and choosing who I'm going to lay off and they're just throwing money at PR firms, and they're sitting on 49 public information officers, I mean they have a platoon of people that do this, yet they hire outside, I don't get it."
In a statement to FOX 11, Supervisor Sheila Kuehl justified the hiring of the firms, telling us:
"Communications is one of the County's most important tools to combat COVID-19. In order to contain this pandemic and protect lives, we need to regularly reach every one of our 10 million residents with information about how residents can protect their own health, the health of their families, and their communities. Our consultants are helping us reach all our residents with life-saving information and every cent we spend saves lives."
RELATED: LA County Board tells Sheriff Villanueva not to close Altadena, MDR stations
Supervisor Kathryn Barger sent FOX 11 the following statement:
"We have one of the most diverse regions in the world, and our communications must reflect our diversity in language, socio-economic status, and access to information. While the County's response to COVID-19 utilized the skillsets of communication professionals across every department, it was imperative to bring in additional resources to augment our communications given the enormous impact this virus has put on the millions of residents, business, and organizations throughout the County. FEMA has already approved reimbursement to L.A. County for the initial phases of contracted communications work, recognizing the critical need of these massive efforts. We anticipate the next phase of communications efforts will also be reimbursed by FEMA as we continue to keep our communities safe and informed."
"It just seems to be an awful waste of money, of our money," said Jack Humphreville, L.A. watchdog for CityWatch L.A., which monitors local politics.
"I'm sure they're gonna be able to justify this expenditure in some way, shape, or form, but it seems to me, it stinks, it's as simple as that. You have all these guys that work for these PR firms, they all come out of Sacramento or some political background, and so everybody is scratching everybody else's back."
"They're trying to make themselves look better in the eyes of the community, really, it's not about a message," Sheriff Villanueva said.