Dog lost during Apple Fire reunites with his owner
BANNING, Calif. - A Riverside County Animal Services worker reunited a Banning man with his dog that a firefighter rescued in the Apple Fire.  
San Jacinto Animal Shelter Sgt. Lesly Huennekens returned "Buck" the one-year-old Blue Heeler to his owner, Greg Skeens Wednesday.  
The dog chased a coyote off their Mias Canyon property Sunday and Skeens was sure his dog had been eaten. "Buck took off after coyote, a big coyote, all the way to top of mountain over there," says Skeens, pointing to a scorched hillside in the distance.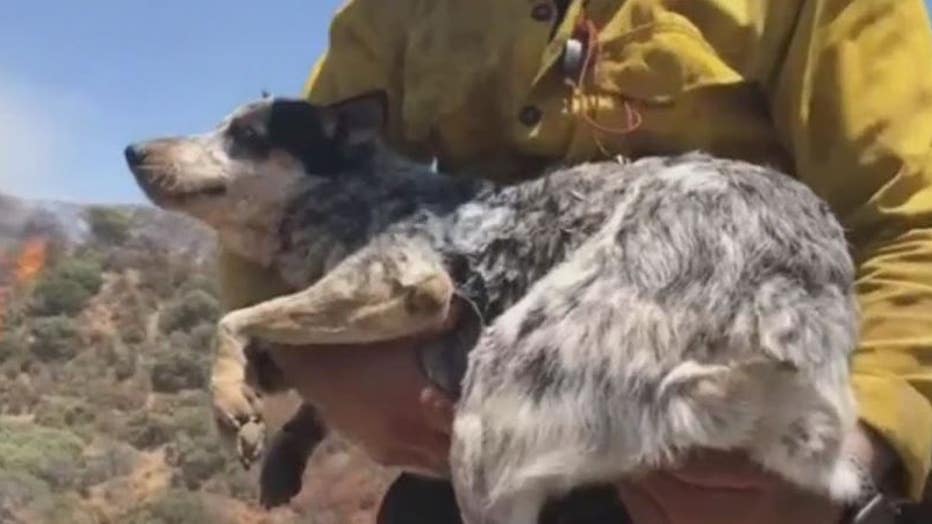 As firefighters battled the raging 28,000-acre fire in Riverside County that's now 30% contained, an Orange County fireman noticed a dog on the side of a ridge and rescued him. The firefighter gave him water, a bite of his sandwich and carried him down out of the fire and into a shelter worker's arms.  
RELATED: OC firefighters rescue little dog lost during Apple Fire, reunited with owner
While Sgt. Huennekens was doing welfare checks on animals at homes threatened by the Apple Fire, Skeens mentioned his dog was missing. As soon as he described Buck, Sgt. Huennekens knew they had his best friend. "She called the office and the guy sent a picture and I said that's Buck," says Skeens.
Sgt. Huennekens brought back home an unharmed Buck that wrapped his front legs around his owner's leg. Skeens says he is so thankful to Sgt. Huennekens and to the firefighters who saved his home and dog. "Now he doesn't want to leave my side. He won't leave me," says Skeens as Buck sits on his lap, licking his face.