LA Dodgers fan who stormed field to propose to girlfriend tackled with 1-year ban, TMZ reports
LOS ANGELES - A Los Angeles Dodgers fan who stormed the field to propose to his girlfriend in the middle of the game continues to get hit with consequences. Just days after Ricardo Juarez got tackled by security at Dodger Stadium and went viral for his stunt, the fan now faces a one-year ban from the ballpark.
During the Dodgers' Opening Day showdown against the Arizona Diamondbacks, Juarez – spotted wearing a Mookie Betts jersey – jumped over the outfield wall and sprinted to the field and popped the question.
As Juarez was down on his knee, a security guard laid the NFL-like hit stick on the trespassing fan, drawing loud cheers from the crowd.
Was it worth it? On one hand, specifically in his and his girlfriend's ring fingers, you could argue it was, considering she said yes. But on the other hand, a report from TMZ on Monday revealed Juarez is now facing a 1-year ban from Dodger Stadium. 
Dodgers proposal gone wrong: Fan gets tackled by security mid-proposal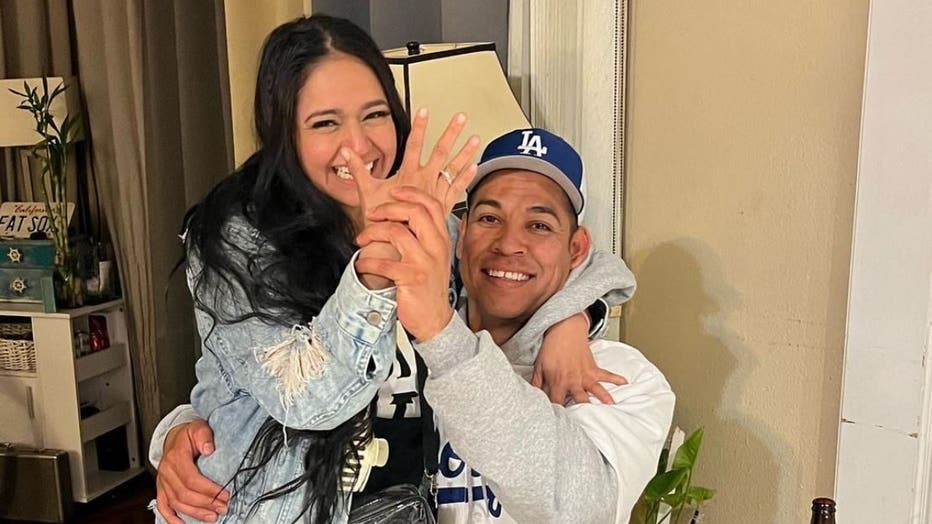 TMZ also reports Juarez was able to avoid jail time. As for the rest of the 2023 MLB regular season, Juarez will have to watch his beloved Dodgers elsewhere with the ban reportedly in effect.