Disneyland to serve more alcohol at these restaurants
ANAHEIM, Calif. - Disneyland is getting boozier. 
The "Happiest Place on Earth" announced Wednesday three restaurants - Carnation Cafe, River Belle Terrace, and Cafe Orleans - will all sell wine, beer, and cocktails starting Sept. 12. 
To make the news even sweeter, Disney Parks said new food items as well as non-alcoholic beverages will also be coming to those restaurants. 
Disneyland continues to serve only beer, wine, and liquor at sit-down restaurants, whereas its counterpart across the way, California Adventure, serves alcohol to-go. 
For decades Disneyland was a dry theme park. That all changed in 2019 when it opened Oga's Cantina to accompany the debut of Star Wars: Galaxy's Edge.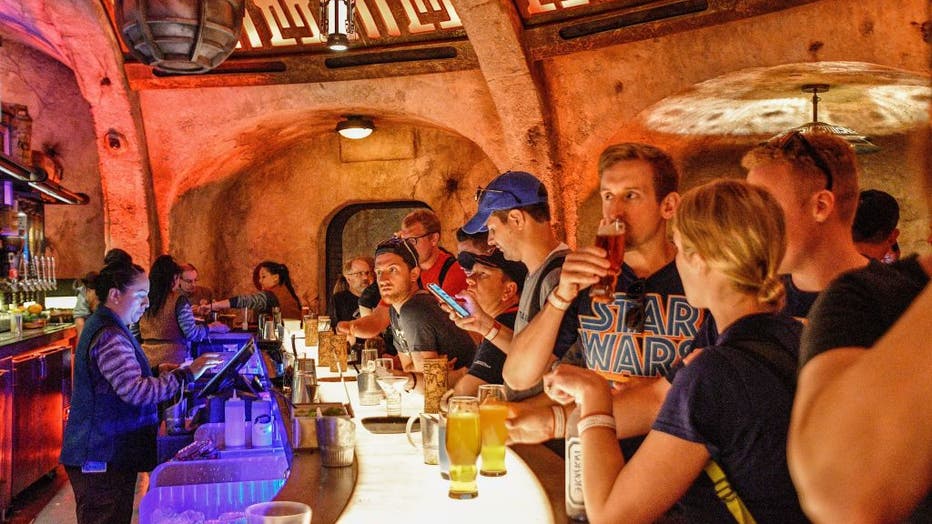 Patrons at Oga's Cantina are among the first visitors to Disneyland to be able to buy alcohol during opening day at Star Wars: Galaxy Edge in Anaheim, CA, on Friday, May 31, 2019.(Photo by Jeff Gritchen/MediaNews Group/Orange County Register via Gett
SUGGESTED:
Walt Disney was apparently against alcohol being served at his theme parks, telling the Saturday Evening Post in 1956, "No liquor, no beer, nothing. Because that brings in a rowdy element. That brings people that we don't want, and I feel they don't need it."
Disneyland recently celebrated the grand opening of San Fransokyo Square, which began welcoming guests just weeks ago on a rolling basis. 
That means the highly-anticipated Port of San Fransokyo Cerveceria is officially open, and additional dining options, unique shopping, and more at the new seaside plaza will open in the following weeks through mid-August.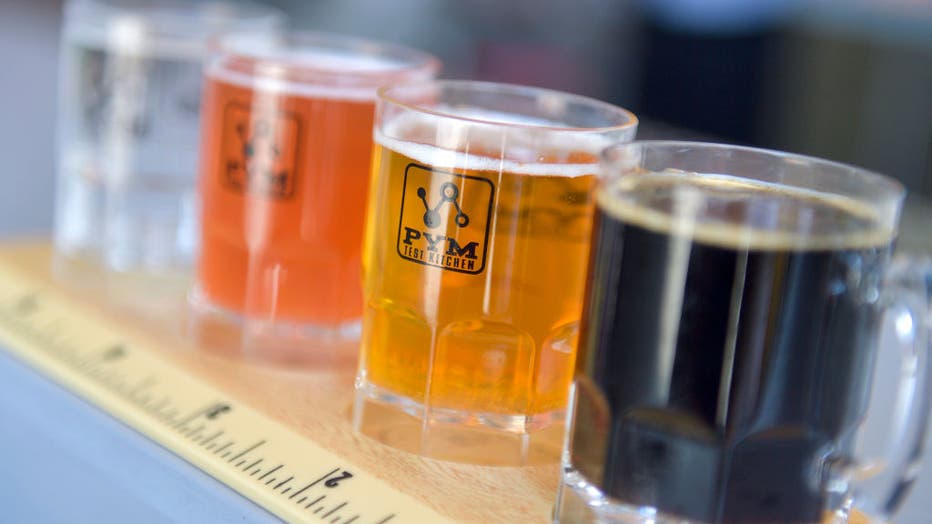 Beer flight available at PYM Test Kitchen at Avengers Campus inside Disney California Adventure in Anaheim, CA, on Wednesday, June 2, 2021. (Photo by Jeff Gritchen/MediaNews Group/Orange County Register via Getty Images)
Disneyland also announced new nighttime entertainment as it revealed the park's popular "Fantasmic!" show won't be returning until 2024.
"As teams continue work on the show, we have launched nightly entertainment on the Rivers of America this summer and we are working on even more exciting entertainment offerings for our guests later this year."
This comes months after the animatronic dragon featured in the show caught on fire during a live performance.