Disneyland's San Fransokyo Square to start welcoming guests in July
ANAHEIM, Calif. - Disneyland on Thursday released new details about the upcoming opening of San Fransokyo Square. 
Beginning in mid-July, San Fransokyo Square will open to guests on a rolling basis. 
Local eateries will offer San Fransokyo selections at Lucky Fortune Cookery, and the Port of San Fransokyo Cerveceria will officially open, and additional dining options, unique shopping, and more at the new seaside plaza will open in the following weeks through mid-August.
PREVIOUS COVERAGE: First pics: Disneyland's San Fransokyo opening summer 2023
Upon the full completion, locations across San Fransokyo including The Bakery Tour will be decorated in street art, colorful banners, and more celebrating the Big Hero 6 Team after their victory over Yokai.
Guests will be able to interact with Hiro, Baymax, and friends. 
San Fransokyo Square will include current favorites and new creations inspired by Asian cuisine, as well as the Big Hero 6 themselves.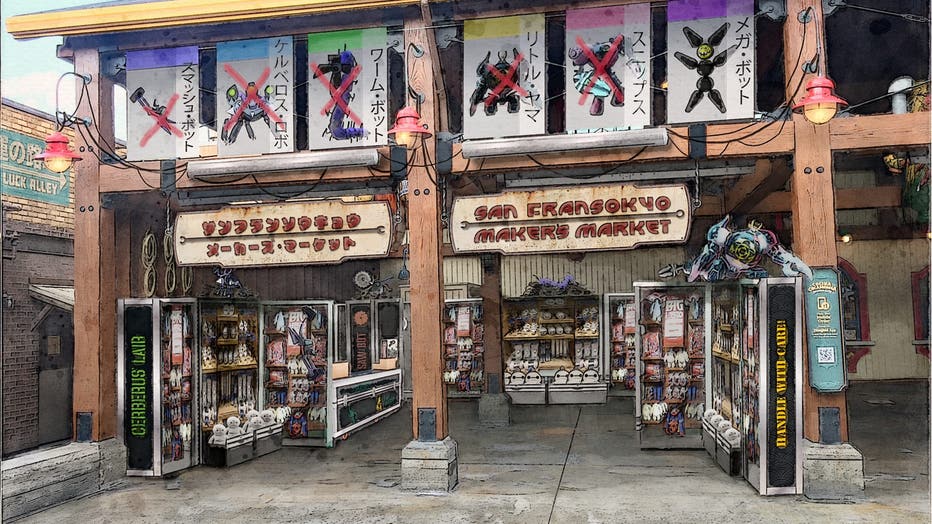 Later in summer 2023, guests at San Fransokyo Square at Disney California Adventure Park in Anaheim, Calif., will discover the San Fransokyo Maker's Market, a storefront stocked with unique apparel, homewares and more featuring Baymax and friends. As
Here's a little more on some of the food and drink offerings:
Aunt Cass Café, the second bakery café operated by Hiro's loving aunt, will serve dishes, soups in freshly-baked Boudin sourdough bread bowls and more inspired by Japanese cuisine. On the outside of this quick service restaurant, you'll find a mural of Aunt Cass' lucky pet cat, Mochi.
SUGGESTED:
An old fishing net tannery across from the café is being converted to Rita's Turbine Blenders, a giant drink dispenser offering delicious margaritas and icy beverages. This refreshment stand is owned and named after the repair technician who maintains the floating wind turbine, resembling a giant koi fish, that sits atop the structure.
In addition to these locations, you can expect new menu items at Cocina Cucamonga and Ghirardelli Soda Fountain and Chocolate Shop. Keep an eye out for the Disney Eats Foodie Guide, coming soon, for the full list of cuisine to come.
Both theme park reservations and valid admission for the same park on the same day are required for park entry.