1 dead, 3 injured in fiery overnight crash on Sunset Strip
LOS ANGELES - The driver of a Tesla X who authorities said left the scene following a fiery crash that left one woman dead and two others –  ages 23 and 24 –  injured on the Sunset Strip in the Hollywood Hills has been located and was in police custody.
Investigators with the Los Angeles Police Department said the crash occurred around 2:30 a.m. Monday near the intersection of Sunset Boulevard and Roxbury Road. The driver was allegedly traveling at a high rate of speed when he lost control, veered off the roadway, and crashed into a lamp post and palm tree, causing the vehicle to explode.
The damage was so severe, investigators couldn't initially determine what kind of vehicle it was.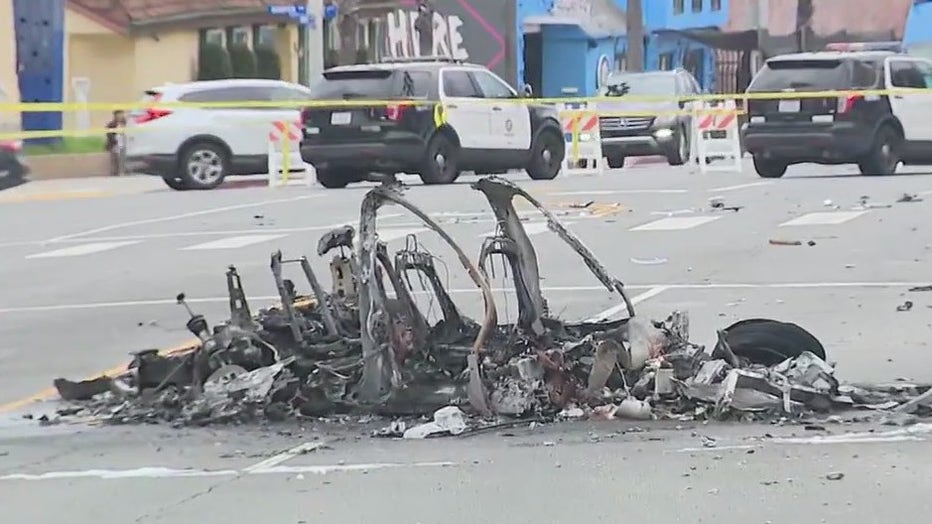 Following the crash, officials said the male driver got out of burning vehicle and was picked up by friends who had been following not far behind. He was taken to the hospital with critical injuries. 
Two people were rescued from the wreckage by good Samaritans and were rushed to the hospital once first responders arrived. One of the victims was taken to the hospital in critical condition while the second victim was transferred in stable condition. The female passenger was declared dead at the scene. 
SUGGESTED: Windsor Hills crash: Lawyer claims nurse had a seizure, 'froze' at the wheel before fiery collision
The names of the victims and the suspect have not been released.  Traffic investigators were canvassing the area for surveillance footage and clues.
Sunset Blvd. remains closed between Crescent Heights Blvd. and Sweetzer Avenue for the investigation.