George Gascón leads LA County DA race against incumbent Jackie Lacey
LOS ANGELES - An updated vote count is scheduled to be released Thursday by Los Angeles County election officials, which could provide more information as to whether former San Francisco District Attorney George Gascón will be successful in his challenge to District Attorney Jackie Lacey.
With initial vote-counting from Tuesday's election completed, along with a post-election update of still-outstanding ballots on Wednesday, Gascón had 53.8% of the vote, to Lacey's 46.2%, with roughly 220,000 votes separating them.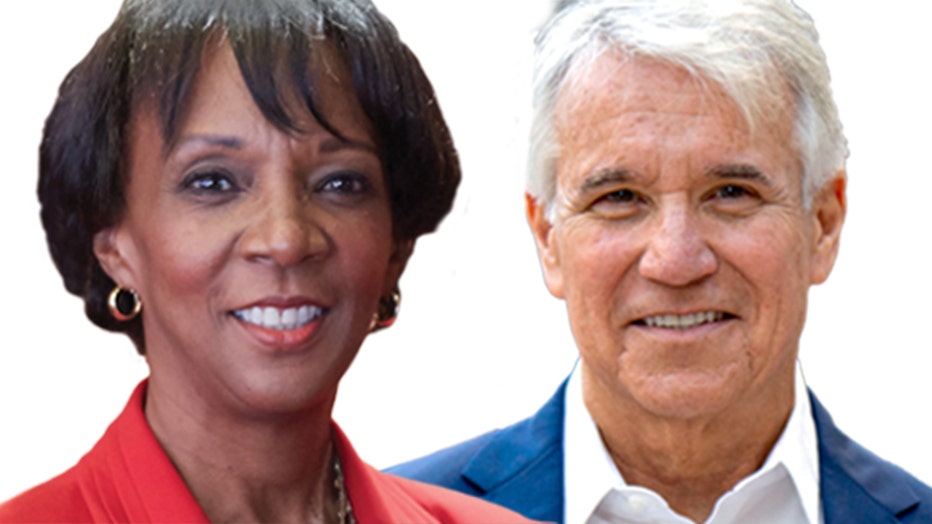 There are 618,200 ballots remaining to be counted, according to Los Angeles County Registrar-Recorder/County Clerk Dean C. Logan. That total consists of an estimated 520,000 votes by mail ballots, 87,000 conditional voter registration ballots, 2,000 provisional ballots, and 9,200 ballots that have write-ins, are damaged, need to be remade, or require further review, Logan said.
The total does not include vote-by-mail ballots that have not been received. The Registrar-Recorder/County Clerk's office will continue to accept vote-by-mail ballots that were postmarked by Tuesday and received through Nov. 20.
Gascón positioned himself as a reformer in the race against Lacey. As incumbent, Lacey was plagued by protests from progressives who felt she was not aggressive enough in prosecuting police and sheriff's deputies involved in civilian deaths.
RELATED: 
• LA District Attorney: 'Opponent George Gascón doesn't care about your safety'
• Former San Francisco D.A. George Gascón wants to be L.A.'s D.A.
That opposition continued Wednesday when dozens of people attended a "Jackie Lacey Will Go" celebration organized by Black Lives Matter in front of the Hall of Justice in downtown Los Angeles, where anti-Lacey protests have been held weekly. Not phased by the continuing vote-count, attendees proclaimed Gascón the winner.
"Today we are definitely celebrating," a BLM organizer told the crowd at the start of the event. "We want to take this moment as we have come out here every Wednesday consistently, knowing that with consistency comes success, so we are about to truly celebrate a success that has been three-and-a-half years in the making."
RELATED: LA County DA candidate George Gascón: 'I believe that we can bring humanity, rehabilitation and be safer'
The rally was met with a large police and sheriff's department presence, which blocked northbound traffic on Broadway and eastbound traffic on Temple Street.
Lacey finished first in the three-candidate field in the March 3 primary with 48.7% of the vote to 28.2% for Gascón. A runoff was needed because no candidate received a majority.
The primary came a day after a group of Black Lives Matter protesters showed up at Lacey's home, and Lacey's husband responded by pointing a gun at the group and ordering them off of the couple's property.
Lacey later apologized on behalf of herself and her husband but stressed that she has been the target of repeated threats while in office, including death threats, and her husband acted out of fear when the commotion began outside their home at 5:30 a.m.
RELATED: Gov. Newsom endorses George Gascón for Los Angeles County DA
Many people had voted before the incident.
David Allan Lacey was charged Aug. 3 with three misdemeanor counts of assault with a firearm. He pleaded not guilty to the charges Oct. 2. A pretrial hearing is scheduled in the case for Dec. 11.
VIDEO: Black Lives Matter protesters say husband of DA Jackie Lacey pointed gun at them
That primary preceded the in-custody death of George Floyd in Minneapolis, which sparked nationwide protests and only intensified the opposition to Lacey.
The race drew national attention and big money donors from outside of Los Angeles. Of roughly $14 million in campaign funds reported as of late October, Gascon has a slight edge over Lacey, based on a recent surge in contributions, and much of his support lies with wealthy donors, according to an analysis by the Los Angeles Times.
New York billionaire and progressive donor George Soros has contributed $1.5 million, while Netflix CEO Reed Hastings and his philanthropist wife, Patty Quillin, have written checks totaling more than $2 million in an effort to elect Gascon, according to The Times.
The majority of Lacey's financial support came from law enforcement groups, including checks of $1 million or more from each of the unions representing sheriff's deputies, Los Angeles police officers and state corrections officers.
Get your top stories delivered daily! Sign up for FOX 11's Fast 5 newsletter. And, get breaking news alerts in the FOX 11 News app. Download for iOS or Android.