Tornado in California? What you need to know
LOS ANGELES - Californians were swept up by the news that a tornado hit Carpinteria Tuesday night and another tornado that touched down in Montebello Wednesday. 
A tornado in California? It doesn't happen often, but it has occurred before, according to the National Weather Service.
"At any place, in particular California, a tornado is highly unusual, however, if we look at the broader area of Southern California, or California in general, we do tend to see a number of tornadoes occur really each year, especially in the winter and early spring time when strong pacific storm systems move on shore and create favorable conditions," said Dr. Ariel Cohen with the National Weather Service. 
On average California sees about seven tornadoes a year. 
RELATED: Potential tornado rips through Montebello, damaging multiple buildings
The NWS confirmed a EF0 tornado (weak) hit Carpinteria. Wednesday night, the NWS confirmed that the tornado that struck down in Montebello Wednesday was an EF1, which typically have wind speeds between 86 and 110 miles per hour. It was the strongest tornado to hit the LA Metro area in 40 years, according to the NWS.
The last time a stronger tornado occurred in the LA Metro area was March 1983 and the last time an EF1 occurred in the area was January 1998 in Long Beach. 
This all comes after a rare tornado warning was issued in Ventura County for the cities of Thousand Oaks, Simi Valley, and Camarillo the previous night. A tornado warning based on radar also was issued Tuesday night for the Point Mugu area west of Malibu. The warning was later canceled and the Ventura County Sheriff's Office tweeted there was no evidence a tornado touched down.
Here's what you need to know.
What exactly is a tornado?
A tornado is defined by the NWS as a "violently rotating (usually counterclockwise in the northern hemisphere) column of air descending from a thunderstorm and in contact with the ground."
Although tornadoes are usually brief, lasting only a few minutes, they can sometimes last for more than an hour and travel several miles causing considerable damage.
RELATED: Carpinteria tornado damages mobile home community
The NWS says there are different types of tornadoes: supercell tornadoes and non-supercell tornadoes (like spouts and waterspouts.)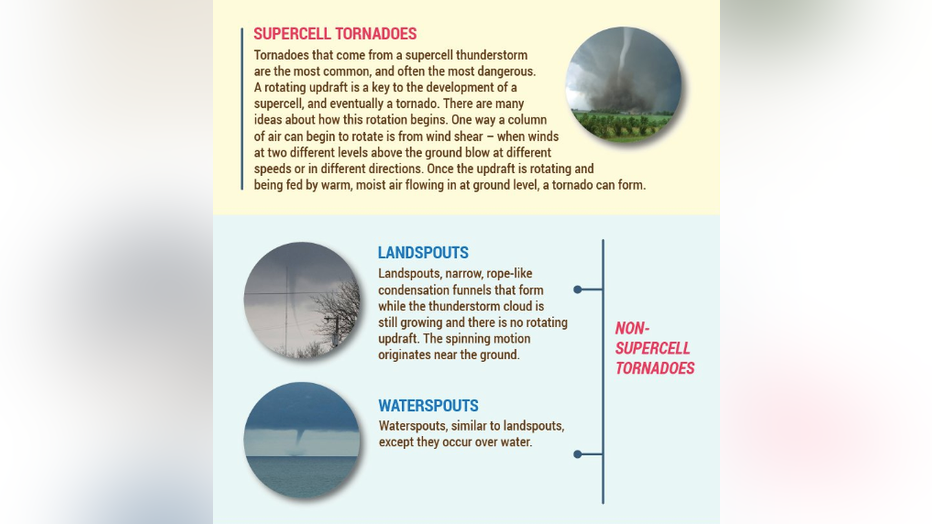 Supercell tornadoes (or wedges) are generally the biggest and most destructive twisters. These originate from supercell thunderstorm systems and produce similar twisters known as stovepipes, ropes, and elephant trunks. 
Non-supercell tornadoes are often recognized as landspouts and waterspouts. They're skinnier and don't last as long as wedges, so they tend to be more localized and do less harm, the NWS said. Also unlike supercell tornadoes, these can happen even if the weather isn't terrible. They can produce even if it's just cloudy and during periods of light rain when combined with wind conditions. Landspouts are characterized by a narrow funnel that looks like a rope and forms when a thunderstorm cloud is growing. It originates near the ground. On the other hand, waterspouts happen over water. 
Did a tornado really hit SoCal?
The NWS confirmed Wednesday afternoon a "weak, narrow" tornado with an EF0 rating and winds estimated up to 75 mph did in fact hit Carpinteria in Santa Barbara County Tuesday night. According to the NWS, the tornado was brief and affected the Sandpiper Village mobile home park, damaging around 25 mobile home units. There was also minor tree damage to a nearby cemetery, the agency said.
A tornado also touched down southeast of Los Angeles in Montebello on Wednesday, ripping pieces of roofing off a line of commercial buildings and sending the debris twisting into the sky.
The twister touched down in the area of South Maple Avenue and Date Street, near Vail Ave., just after 11:20 a.m.  
Montebello Fire Department said 17 buildings were inspected and 11 were red-tagged due to damage they suffered. Images from SkyFOX showed multiple cars were damaged, fences destroyed, and roofs of buildings torn off. 
How long do they last?
Tornadoes can last from several seconds to more than an hour but most last less than 10 minutes, according to the NWS. The size and/or shape of a tornado is no measure of its strength.
Forecasters say any tornado that spins up would expect to be brief, but even a short, weak tornado can cause damage.
How are tornadoes measured?
Tornadoes are rated based on the Enhanced Fujita (EF) scale, which uses the tornado's wind speeds and damage. The scale was adopted in 2007 and was a revision from the original Fujita Scale.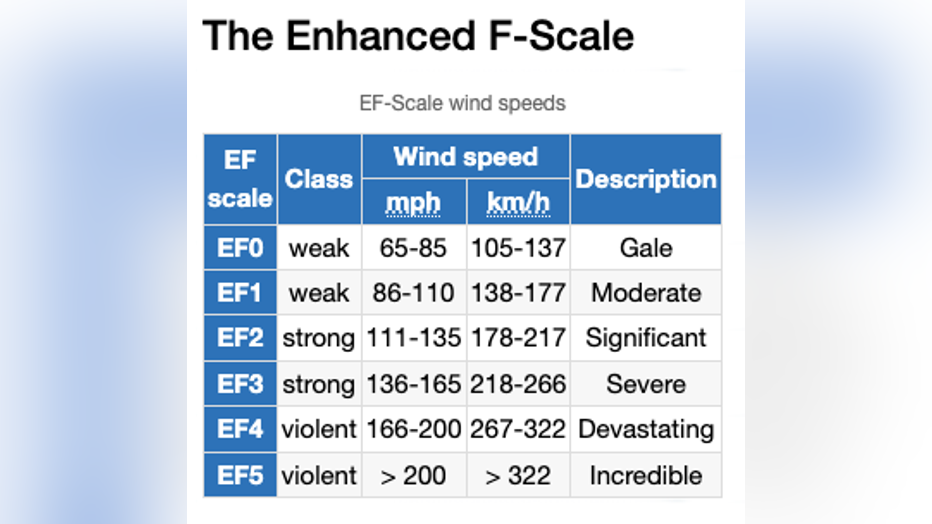 Are tornadoes common in California?
According to the NWS, California averages around 11 tornadoes a year, and they usually occur in the fall or spring.
The NWS also said that while tornadoes can occur throughout the state, they are more common in the northern half of the Central Valley, in areas just north of Merced all the way to Redding, encompassing the greater Sacramento region, Chico, and other cities in Central California.
In a typical year around 1300 tornadoes will strike the United States. The peak of the tornado season is April through June with more tornadoes striking the central United States than any other place in the world. This area of the country has been nicknamed "tornado alley."
According to forecasters, it's been six years since Los Angeles was under such a risk (though the northern coastal LA area had a 2% tornado risk in 2020.)
There have been 467 reported tornado events across the large state since 1950, but while 90 people have been injured in total over the years, the state has yet to suffer a deadly tornado.
Was there a warning?
For the Los Angeles and San Diego areas, it's been just over three years since their last Tornado Warning.
As for Tornado Watches - which are issued by the Storm Prediction Center when tornado conditions are present – there has never been a watch issued along the West Coast.
Funnel clouds would be the first sign of a tornado trying to form.
A tornado watch is issued when tornadoes are possible in or near a specific watch area, it serves as a message to be prepared.  It is usually issued when a tornado has been sighted or one has been indicated by a weather radar. 
Tornadoes can come in many different shapes and sizes, from a few feet to over a mile wide. According to experts, these factors do not necessarily imply the force of the tornado or its destructive capacity.
"Since tornadoes can change intensity rapidly, they should all be considered dangerous," the NWS website says.
What do I do during a tornado?
Stay Weather Ready: Continue to listen to local news or a NOAA Weather Radio to stay updated about tornado watches and warnings.
At Your House: If you are in a tornado warning area, go to your basement, safe room or an interior room away from windows. Don't forget pets if time allows.
At Your Workplace or School: Follow your tornado drill and proceed to your tornado shelter quickly and calmly. Stay away from windows and do not go to large open rooms such as cafeterias, gymnasiums or auditoriums.
Outside: Seek shelter inside a sturdy building immediately if a tornado is approaching. Sheds and storage facilities are NOT safe.
In a vehicle: Being in a vehicle during a tornado is NOT safe. The best course of action is to drive to the closest shelter. If you are unable to make it to a safe shelter, either get down in your car and cover your head, or abandon your car and seek shelter in a low lying area such as a ditch or ravine.
How can I prepare?
The NWS says the best way to prepare is to have a plan.
Be Weather-Ready: Check the forecast regularly to see if you're at risk for tornadoes. Listen to local news or a NOAA Weather Radio to stay informed about tornado watches and warnings. Check the Weather-Ready Nation for tips.
Sign Up for Notifications: Know how your community sends warnings. Some communities have outdoor sirens. Others depend on media and smart phones to alert residents of severe storms capable of producing tornadoes.
Create a Communications Plan: Have a family plan that includes an emergency meeting place and related information. If you live in a mobile home or home without a basement, identify a nearby safe building you can get too quickly, such as a church or family member.
Pick a safe room in your home, such as a basement, storm cellar, or an interior room on the lowest floor with no windows. Check more ideas for your family plan at: https://www.ready.gov/make-a-plan
Practice Your Plan: Conduct a family severe thunderstorm drill regularly so everyone knows what to do if a tornado is approaching. Make sure all members of your family know to go there when tornado warnings are issued. Don't forget pets if time allows.
Prepare Your Home: Consider having your safe room reinforced. You can find plans for reinforcing an interior room to provide better protection on the Federal Emergency Management Agency website.
Help Your Neighbor: Encourage your loved ones to prepare for the possibility of tornadoes. Take CPR training so you can help if someone is hurt.
FOX Weather and The Associated Press contributed to this report.