Carpinteria tornado damages mobile home community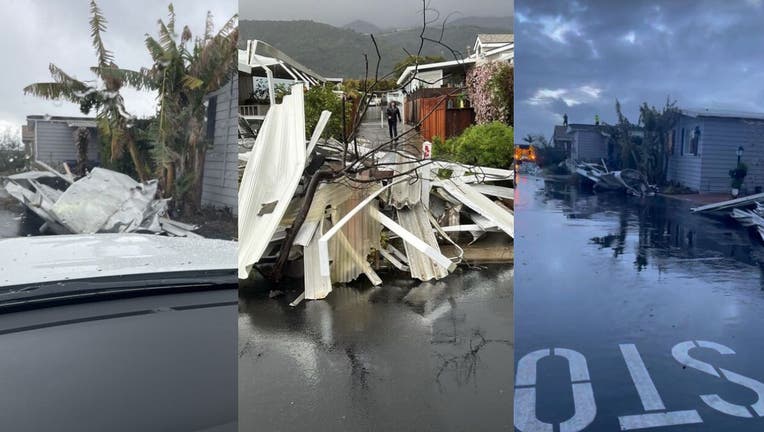 article
A tornado ripped through Carpinteria Tuesday afternoon, damaging a mobile home park, the National Weather Service reported. 
Video shows carport awnings destroyed and torn in pieces, laying on the ground, along with other large pieces of debris. 
According to NWS, the "weak and narrow tornado" briefly touched down in the Sandpiper Village mobile home park around 5:45 p.m. At least 25 mobile home units were damaged along with minor tree damage to the cemetery next to the park. One injury was reported. 
A survey team was sent to the area to assess the damage. Officials gave it an EF0 rating with winds estimated up to 75 mph.
According to the NWS, the tornado formed as a waterspout offshore before moving onshore.  
Carpinteria is a small seaside city in southeastern Santa Barbara County.
This comes after a rare tornado warning was issued in Ventura County for the cities of Thousand Oaks, Simi Valley, and Camarillo the previous night. A tornado warning based on radar also was issued Tuesday night for the Point Mugu area west of Malibu. The warning was later canceled and the Ventura County Sheriff's Office tweeted there was no evidence a tornado touched down.
On Wednesday, another tornado ripped through Montebello, damaging several commercial buildings in an industrial area. Seventeen buildings were damaged, many had their roofs torn off and several cars had their windows blown out. 
RELATED: Potential tornado rips through Montebello, damaging multiple buildings
A tornado is defined by the NWS as a "violently rotating (usually counterclockwise in the northern hemisphere) column of air descending from a thunderstorm and in contact with the ground."
Although tornadoes are usually brief, lasting only a few minutes, they can sometimes last for more than an hour and travel several miles causing considerable damage.
RELATED: Tornado in California? Here's how common they are and where they're more likely to form
The NWS says there are different types of tornadoes: a supercell tornado, landspouts and waterspouts. A landspout causes less damage than a typical tornado.