'I just want her back': Burglars steal French Bulldog from West Hills home
LOS ANGELES - Burglars were caught on camera stealing a French Bulldog from a home in West Hills.   
It happened Wednesday around noon at a home on the 23000 block of Haynes St. 
The homeowner told FOX 11 that two suspect broke into their house and stole priceless rings and jewelry from a safe. As the suspects start to walk out, they grab little Cardi, a French Bulldog, and flee.  
"I just want her back. It's been so hard; I haven't even slept last night. I'm pregnant, so the stress is through the roof right now. I just want her home," said Cardi's owner Melissa Duronslet.  
Cardi, who is almost a year old, is a rare breed known as a fluffy Frenchie, with fur on her back, tail and ears. 
The thieves apparently took a ladder and climbed up to the porch; no one was home at the time of the incident.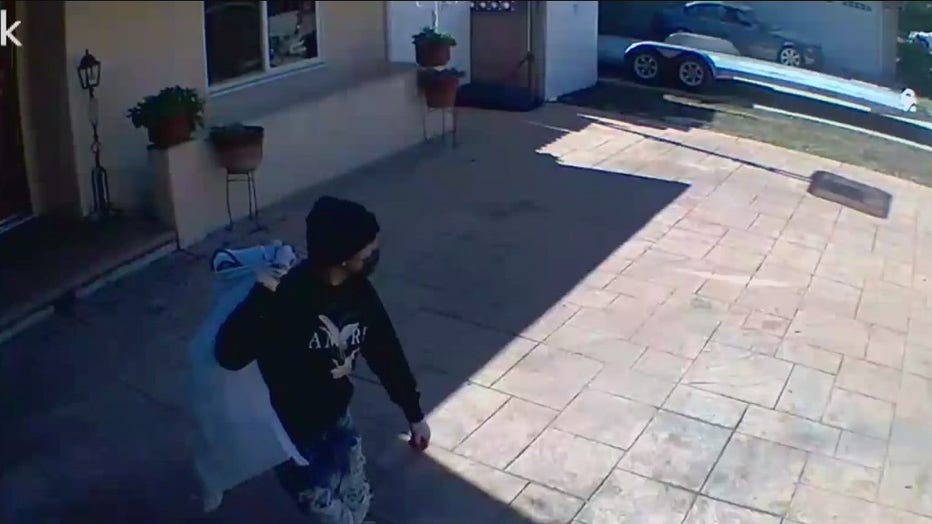 The family thinks they were targeted.
"They had to have a plan doing this, because we live right in the center of the block, we know our neighbors, our neighbors are both home," said Melissa's father.  
The family is urging whoever took or has seen her to safely return her. 
"I don't care, just please turn her in, somebody please. She is the most amazing thing in the world. She is my whole world, like a child. I really love her," Melissa emotionally said. 
The French bulldog was named Los Angeles' most popular dog breed in 2021 by the American Kennel Club and the theft of Frenchies has been on the rise across the area.  
Most notably was the theft of two of Lady Gaga's three Frenchies.