Board of police commissioners votes to reappoint Michel Moore as LAPD chief
LOS ANGELES - The LA Board of Police Commissioners has voted unanimously to reappoint Michel Moore as chief of the Los Angeles Police Department. 
Moore was appointed by the board Tuesday in a closed meeting to serve a second five-year term.
"Chief Moore is an exceptional leader. Chief Moore remaining in place will provide much-needed continuity for the Department. He has the ability to not only lead the Department, but to institute cutting edge reforms and work with deep relationships he has built with community, City, and County leaders to 
the benefit of the LAPD and the City of Los Angeles," Commission President William Briggs said in a statement.
Moore released a statement in response saying, "It has been my great honor and privilege to serve as Chief of the Los Angeles Police Department. Over the course of my tenure, we have accomplished significant reforms, enhanced training, and expanded transparency and accountability while navigating uncharted territory encompassing the combination of a historic pandemic, severe staffing reductions, and a resurgence of homicides and gun related crimes."
The decision still needs final approval from LA Mayor Karen Bass. The mayor sent a letter to President Briggs expressing her support of reappointing Moore. In the letter, Bass said she spoke with Moore and agreed for the need to continue and expand police reform, reduce crime, increase community policing, increase mental health training for all officers, and much more.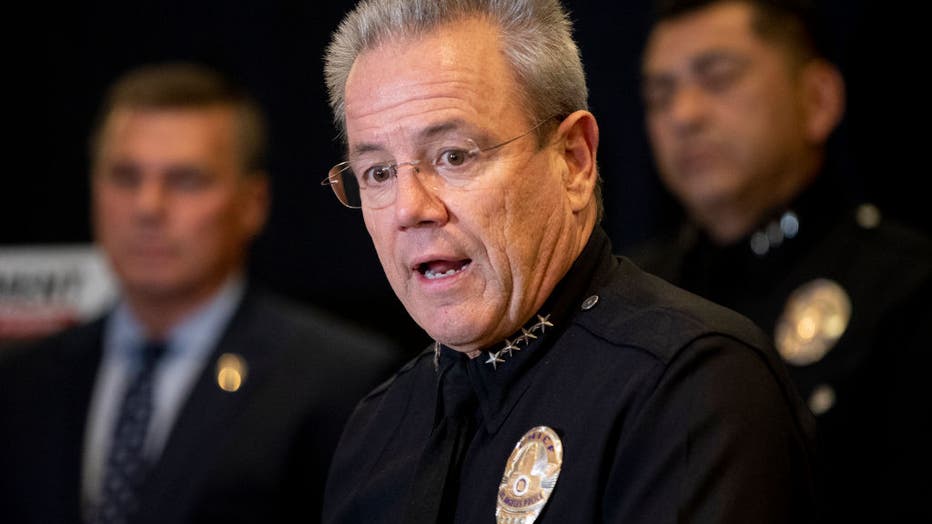 (Allen J. Schaben / Los Angeles Times via Getty Images)
According to reports, Chief Moore said he will not serve a full 5-year term. Bass will then have to appoint a new chief. 
"At the appropriate time, in advance of global events like the 2026 World Cup and the 2028 Olympics, a nationwide search will commence and a new Chief will be selected," read a statement from Bass. 
The chief's second term will begin on June 27, 2023. 
Moore is a 40-year veteran of the department and was sworn in as the city's 57th LAPD Chief in 2018, taking the seat after Chief Charlie Beck. Moore joined the Los Angeles Police Department in 1981. He was promoted to captain in 1998. His assignments included assuming command at Rampart Area following the arrest of Rafael Perez and during the 2000 Democratic National Convention.