Attack between armed homeless people breaks out near middle school in Hollywood
LOS ANGELES - An attack between a group of homeless people broke out near a middle school in Hollywood.
The Los Angeles Police Department responded to a call of an assault with a deadly weapon Monday a little before 9 a.m. a short distance from the Selma campus of Larchmont Charter School. The attack happened just as classes had just started and as families dropped their kids off at school.
The attack ended with two people getting arrested for assault with deadly weapon. A homeless woman is believed to have suffered eye injuries after she was targeted by the alleged attackers, LAPD said.
None of the students were hurt in the attack, but parents are calling FOX 11 saying safety has been a major concern in the area – especially considering the fact that the encampments are a few hundred feet away from the school.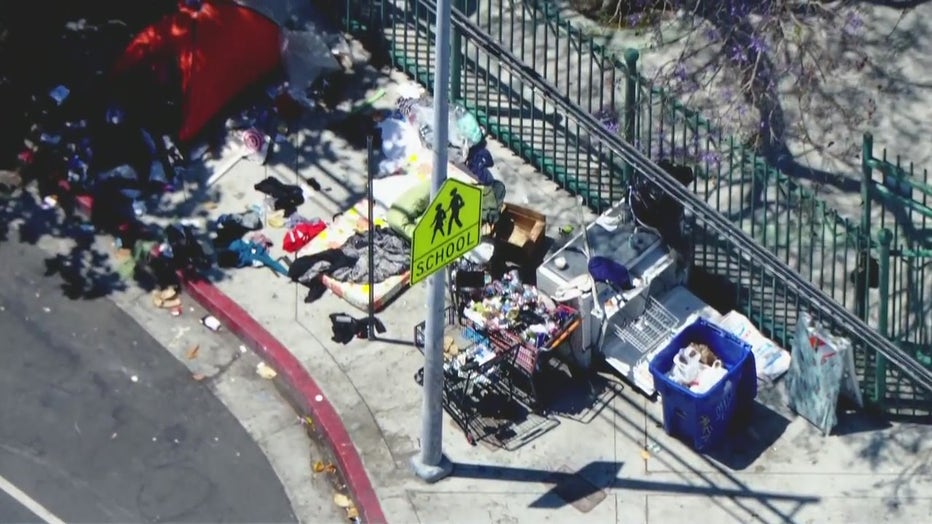 "I am very alarmed when it comes to my children. Her being so close to a homeless embankment, I don't want anything to happen to her. But I think that the city needs to really get on top of it," said Summer Knight, a parent.
Anthony, who lives in an encampment in the area, says he too cares about the children and admits he doesn't like the fact that the encampments are so close to the school.
"I'm not much of a fan or I'm not much of a criminal myself," Anthony said.
He tells FOX 11 that he's been living on the streets since 2018.