As safety improvements begin for Plaza Park, suspect crashes into iconic fountain
ORANGE, Calif. - Just a week after the city of Orange began to improve and protect the iconic fountain in Plaza Park, a suspect in a stolen vehicle crashed into the fountain, causing major damage. 
According to the Orange Police Department, on March 13, just after 5 a.m., officers noticed suspicious activity in the 100 block of south Parker and attempted to pull over a Hyundai Sonata. 
However, the Hyundai fled eat on Chapman Ave at a high rate of speed. The suspect then collided into the fountain at Plaza Park and was eventually taken into custody.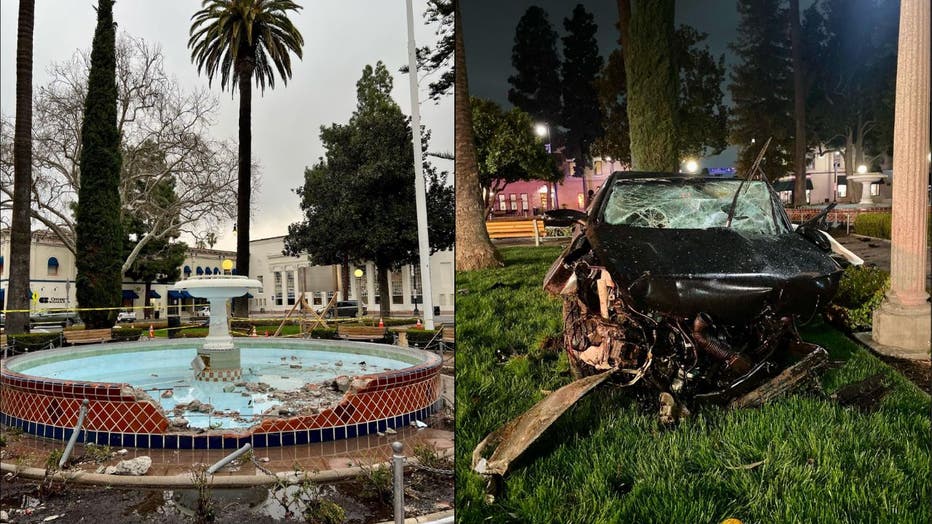 Courtesy: Orange Police Department
Video from the scene shows the vehicle crashing into the fountain then flipping over.
The suspect, identified as 24-year-old Raymond Salazar Felix, was found to be in possession of an unserialized handgun and a high-capacity magazine.
He was taken to the hospital with moderate injuries.
According to police, Felix had just stolen the Hyundai from Parker Street and is on probation for vehicle theft out of Kern County.
The city says employees from Public Works and Community Services Department are working to restore the historic fountain. 
In September 2022, the city council approved a plan to spend an estimated $310,000 to enhance safety improvements for the park. The city has seen several traffic accidents in the area. Plaza Park was designed in 1886 and is often described by the city as the "historic heart" of Orange, the OC Register reported.