Legendary Laker Pau Gasol receives 2023 Kobe & Gigi Bryant WNBA Advocacy Award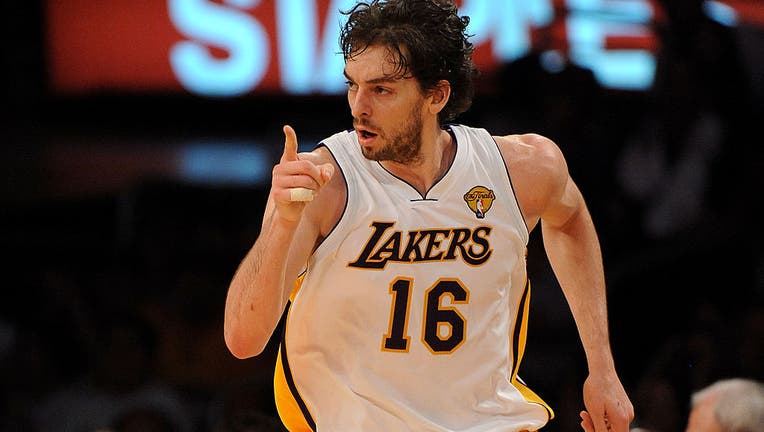 article
LOS ANGELES - Legendary Laker Pau Gasol is using his "Mamba Mentality" to advocate for girls' and women's sports in honor of Kobe Bryant's legacy. 
The two-time NBA champion was honored with the 2023 Kobe and Gigi Bryant WNBA Advocacy Award Sunday during NBA All-Star weekend in Salt Lake City. Vanessa Bryant presented the prestigious award, along with WNBA Commissioner Cathy Engelbert.
"I'm so pleased that Pau has been chosen to receive this award.  Pau has done so much to promote women and girls in sports and cares deeply about spreading a message of equality, which was so important to Kobe and Gianna," said Vanessa Bryant, Chair of the Mamba and Mambacita Sports Foundation, a nonprofit organization dedicated to creating a positive impact for underserved athletes and boys and girls in sports in a press release. "We are grateful to the WNBA and Pau for continuing to honor Kobe and Gianna in this way."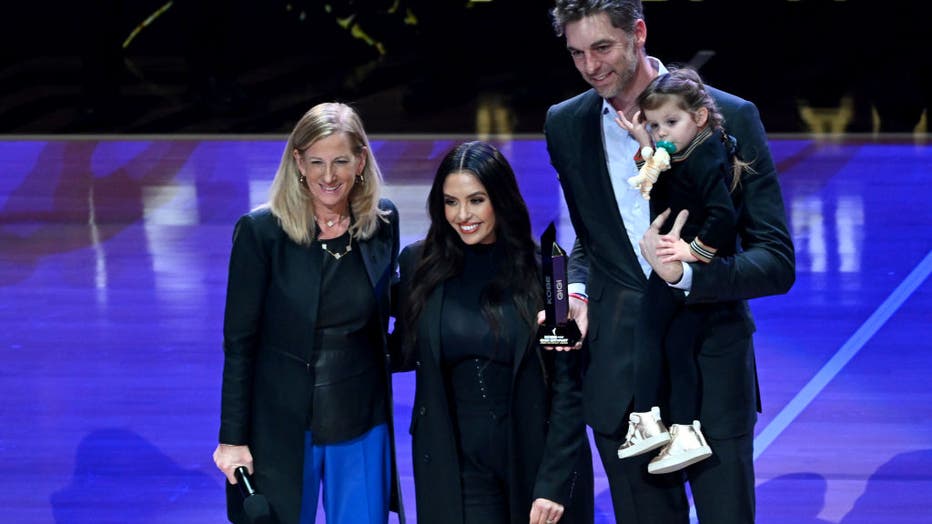 WNBA commissioner Cathy Engelbert, left, and Vanessa Bryant present Pau Gasol with the 2023 Kobe and Gigi Bryant WNBA Advocacy Award. (Photo by Alex Goodlett/Getty Images) (Getty Images)
Gasol and Kobe Bryant played pivotal roles when the Lakers won back-to-back championships in 2009 and 2010. They continued a close friendship until Kobe and Gigi's untimely deaths in 2020.
Gigi fell in love with basketball and was determined to carry her father's basketball legacy. The two bonded over their love for hoops and he coached her basketball team. In 2019, Team Mamba landed on the cover of SLAM Magazine. Gigi aspired to play at UConn before going to the WNBA. 
RELATED: Remembering Gigi Bryant: Rising basketball star would've celebrated 16th birthday
"It is an honor to receive this distinction, which makes me especially happy because it represents two people who are and will always be in my heart," said Gasol in a press release. "Kobe's work, especially during his later years, to support women's sports is an excellent example of where we must direct our efforts to ensure full equality in sports."
Pau, along with his brother Marc Gasol, started the Gasol Foundation, which works to combat child obesity rates.