5-time NBA champion Derek Fisher talks new coaching role at Crespi High School
LOS ANGELES - Legendary Laker Derek Fisher is fully embracing his new role in the world of basketball.
In August, it was announced the five-time NBA champion would take on the head coaching role at Crespi Carmelite High School in Encino. 
"My family and I are thankful and grateful for this opportunity to join the Crespi family," Fisher said in a statement provided to FanNation. "Coaching and teaching is a true passion and I look forward to continuing this focus on the next generation of young student-athletes."
Ahead of the season, Fisher stopped by Good Day LA on Thursday, Nov. 9 to discuss his new gig. 
When asked what he thought the most challenging part of his role would be, he jokingly responded "Just the fact that I'm old and they're young."
He also said finding a way to communicate and relate to his players is important.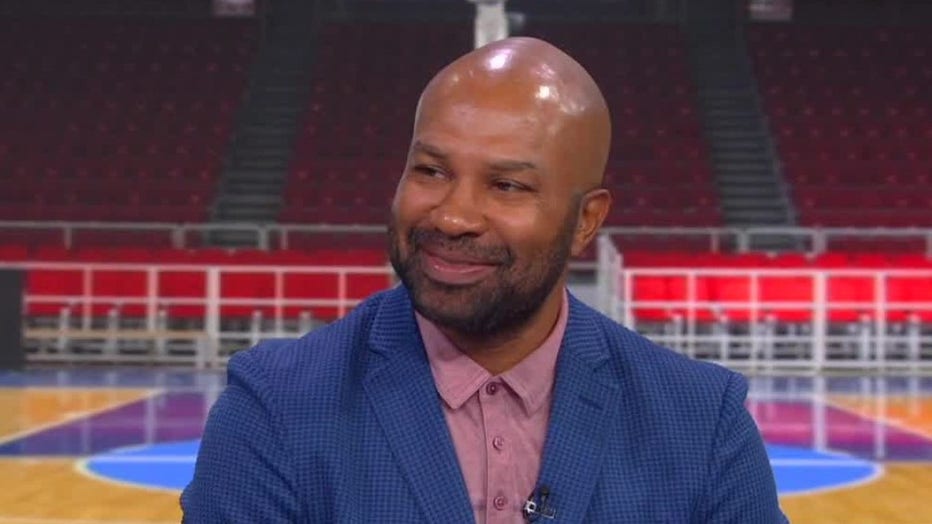 "After coaching pros for several years, having the chance to coach young kids that want to be pros one day is really exciting and I'm thankful for the opportunity," he said. "I think about all the coaches and people in my life over the years prior to any professional success I had, and I think about coaches. I think about people that put time into helping me get better and improve and that's the role I want to try to play for these boys." 
The private Catholic boys' school won back-to-back state titles in 2015 and 2016, which is something Fisher can certainly relate to.
Fisher, often considered one of the greatest role players of all time, was part of a three-peat Los Angeles Lakers championship squad with Kobe Bryant and Shaquille O'Neal from 2000-02 and then again with Bryant and Pau Gasol in 2009 and 2010.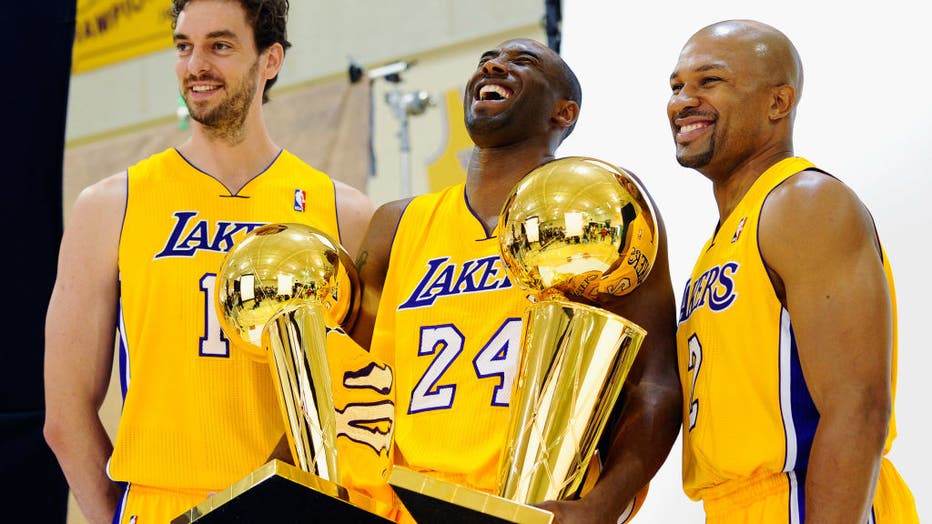 Kobe Bryant #24 of the Los Angeles Lakers laughs as he holds two NBA Finals Larry O'Brien Championship trophies as he poses for a photograph with teammates Pau Gasol #16 and Derek Fisher #2 during Media Day. (Photo by Kevork Djansezian/Getty Images)
Following his playing career, Fisher went on to coach the New York Knicks and Los Angeles Sparks.
RELATED: Derek Fisher out as Los Angeles Sparks head coach
This certainly makes the upcoming season for college prep hoops in the San Fernando Valley one to look forward to. Bryce James, the youngest son of LeBron James, now attends Studio City's Campbell Hall after leaving Sierra Canyon.
SUGGESTED: Bryce James, Lebron James' youngest son, leaving Sierra Canyon: report
Crespi's season begins Tuesday, Nov. 14 in an away game against Oakwood.