Lakers drop Game 1 to Denver Nuggets in WCF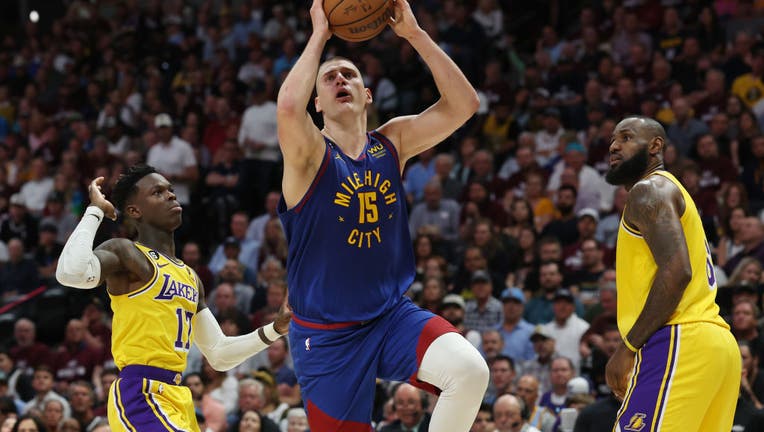 article
DENVER (AP) - Nikola Jokic recorded his sixth triple-double of these playoffs with 34 points, 21 rebounds and 14 assists, powering the Denver Nuggets to a 132-126 win over the Los Angeles Lakers in the opener of the Western Conference finals on Tuesday night.
Behind Jokic's sizzling start and strong finish, and Jamal Murray's 31 points, Denver beat the Lakers in the opener of a playoff series for the first time ever.
After a slow start, Anthony Davis had 40 points and 10 rebounds, and LeBron James finished with 26 points, 12 boards and nine assists. Austin Reaves chipped in 23 points and fueled L.A.'s desperate fourth-quarter run that nearly erased Denver's 14-point cushion after three.
The Nuggets led by as many as 21 but the Lakers pulled within three points twice in the fourth quarter, once on Reaves' 3-pointer at 124-121 and again on James' pair of free throws that made it 129-126 with 1:12 remaining.
After Jokic sank two free throws with 26 seconds left to give Denver a 131-126 lead, Murray poked the ball from James as he was about to take it to the hoop and Jokic gathered the loose ball before being fouled with 10.9 seconds left. He sank one of two and James misfired from 3 as the seconds ticked off.
Game 2 is Thursday night at Ball Arena, where the top-seeded Nuggets are 7-0 in the playoffs and 41-7 overall, the best home record in the league this season.
SERIES SCHEDULE
Game 1: Nuggets 132, Lakers 126
Game 2: Lakers at Nuggets, Thursday, May 18, 5:30 p.m. PT
Game 3: Nuggets at Lakers, Saturday, May 20, 5:30 p.m. PT
Game 4: Nuggets at Lakers, Monday, May 22, 5:30 p.m. PT
Game 5*: Lakers at Nuggets, Wednesday, May 24, 5:30 p.m. PT
Game 6*: Nuggets at Lakers, Friday, May 26, 5:30 p.m. PT
Game 7*: Lakers at Nuggets, Sunday, May 28, 5:30 p.m. PT
*=if necessary
RELATED: Lakers enter Western Conference Finals as underdogs against Denver Nuggets
HOW THEY GOT HERE
The Lakers arrived at the 2023 NBA Playoffs as battle tested as any team in the league. New coach Darvin Ham had a nightmare start to his head coaching career as LA started the regular season at a 2-10.
After the team's tumultuous start, the Lakers shipped out former NBA MVP Russell Westbrook in a trade with the Utah Jazz.
RELATED: Russell Westbrook, Patrick Beverley eligible to receive rings if Lakers win championship
Prior to the deadline, all eyes were on LeBron James earlier in the 2023 calendar year as he broke Kareem Abdul-Jabbar's all-time scoring record. As if there weren't enough distractions, both James and 8-time All-Star Anthony Davis missed time during parts of the regular season to recover from their respective injuries.
Yet, in spite of all the distractions and trips to the trainer's room, the Lakers somehow found themselves a spot in the Western Conference side of the playoff bracket after beating the Minnesota Timberwolves in overtime in the Play-In tournament.
LA, entering the playoffs as a seventh seed, knocked off the second-seed Memphis Grizzlies in six games in Round 1. After beating Ja Morant and the Grizzlies, the Lake Show went on to dethrone the defending champions Golden State Warriors in six games.