NBA trade deadline: LA Lakers part ways with Russell Westbrook, Patrick Beverley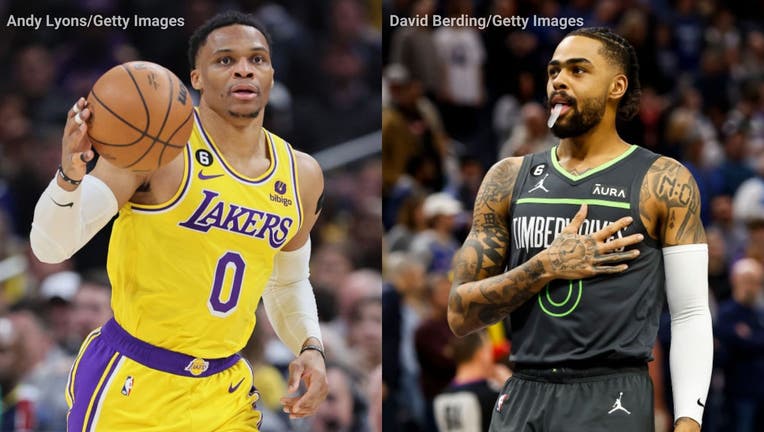 article
LOS ANGELES (AP) - The  Los Angeles Lakers are going all in and updating its roster to fight for playoff contention following a drought. 
Russell Westbrook was traded to Utah and the Lakers reacquired guard D'Angelo Russell from Minnesota in a three-team, eight-player deal, a person with knowledge of the trade told The Associated Press on Wednesday night.
The person spoke on condition of anonymity because the teams hadn't announced the major deal made ahead of the NBA's trade deadline Thursday.
Los Angeles is also getting guard Malik Beasley and forward Jarred Vanderbilt from the Jazz, bolstering its core around LeBron James in a bid to jump-start its sputtering season. The Lakers fell to 25-30 on Tuesday while James set the NBA's career scoring record, and they sit in 13th place in the 15-team Western Conference.
RELATED: LA Clippers welcome back Eric Gordon, trade for center Mason Plumlee ahead of NBA's trade deadline
The Lakers are sending Juan Toscano-Anderson, Damian Jones and their first-round pick in 2027 to Utah with Westbrook.
ESPN and The Athletic first reported the trade. Those outlets also said Minnesota is getting Mike Conley and Nickeil Alexander-Walker from Utah, along with three second-round picks.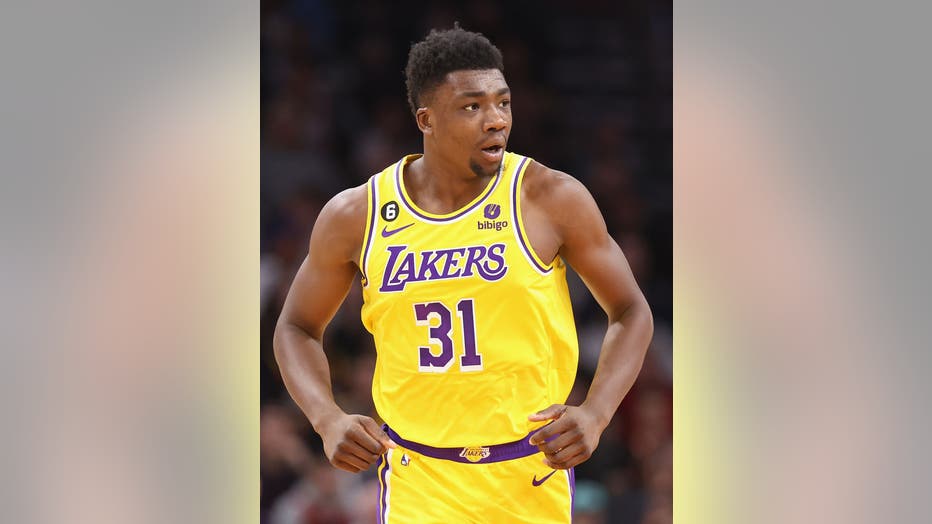 Thomas Bryant #31 of the Los Angeles Lakers. (Photo by Christian Petersen/Getty Images) (Getty Images)
ESPN also reported Thursday morning the Lakers made another trade that will send Thomas Bryant to Denver for Davon Reed and three second-round picks. In addition, the Lakers traded Patrick Beverley to Orlando in exchange for Mo Bamba. 
Westbrook's tenure with his hometown team lasted just 130 tumultuous games. The 2017 NBA MVP never thrived with James and injury-plagued Anthony Davis for any significant stretch of time, struggling to mold his possession-heavy game into a more complementary role.
A move to the bench last fall led to minor improvements over a dismal 2021-22 season, but Westbrook still appeared profoundly uncomfortable with the Lakers, who are in danger of missing the playoffs for the second straight year. Westbrook averaged 17.4 points, 7.2 assists, 6.9 rebounds and 3.7 turnovers per game during his time in Los Angeles, where fans grumbled regularly about his poor shooting and turnovers.
SUGGESTED: LeBron James shatters NBA record books as top scorer in history, surpassing Kareem Abdul-Jabbar
The 34-year-old Westbrook is making about $47 million in the final year of his contract. Several months after the Lakers infuriated a large portion of their worldwide fan base by not trading Westbrook in the summer, they swapped him for Russell, who played his first two NBA seasons with the Lakers after they chose him with the second overall pick in the 2015 draft.
Russell was a rookie during Kobe Bryant's final season, and the point guard was the most consistently entertaining part of two poor Lakers teams before Magic Johnson traded him to Brooklyn in 2017. Russell is now being traded for the fourth time in his eight NBA seasons.
SUGGESTED: Clippers' Paul George earns West All-Star nod; Kawhi Leonard, Lakers' Anthony Davis snubbed
Russell is averaging 17.9 points, 6.2 assists and 3.1 rebounds while hitting a career-best 46.5% of his shots with Minnesota in the final year of a contract paying him more than $31 million this season. His style on both ends of the court also could complement James and Davis better than Westbrook, although the Lakers will have little time to figure it out.
The Timberwolves courted Russell hard when he was on the market in July 2019, when Brooklyn ultimately landed on a sign-and-trade deal that sent Kevin Durant to the Nets and shipped Russell to Golden State. The Wolves eventually acquired Russell at the deadline in Feb. 2020 and teamed him with his draft-class pal, Karl-Anthony Towns.
The Russell-Towns pairing never really took off, in part because of injuries for each player that often kept them from being on the court at the same time. The Wolves drafted Anthony Edwards with the first overall pick in 2020, integrating another high-impact offensive player into the lineup whose value is minimized without frequent touches.
The Wolves made the playoffs in 2022, but only recently have Russell and Edwards truly clicked after coach Chris Finch made Edwards the primary ball-handler and moved Russell into an off-ball position to better maximize his shooting ability.
Russell is shooting a career-best 39.1% from 3-point range, having made five or more shots from deep in six of his last 17 games.
Conley is more of a pure distribute-first point guard than Russell, who has never been a tenacious perimeter defender, either. The 35-year-old Conley is averaging 10.7 points and 7.7 assists in his fourth season with Utah.
Conley will reunite with big man Rudy Gobert, whose transition to Minnesota has been slow. Conley and Gobert meshed well with the Jazz, and their collective experience in the playoffs ought to also help a Wolves team that has been remarkably inconsistent this season while trying to keep up in the crowded race.
There'll be an even bigger Minnesota reunion on the Lakers, with Vanderbilt and Beasley going to LA where Patrick Beverley already plays — although Beverley is showing up in numerous trade rumors himself in the final hours before the deadline. All four of those players helped the Timberwolves get the No. 7 seed for the playoffs last season before Vanderbilt, Beasley and Beverley were traded to the Jazz in the Gobert deal.
Beasley is a strong outside shooter, averaging 13.4 points while hitting 35.9% of his 3-pointers for the Jazz. The 6-foot-9 Vanderbilt has averaged 8.3 points and 7.9 rebounds per game, excelling on defense and on the boards while starting 41 of his 52 games.
The Lakers began their roster overhaul last month by trading Kendrick Nunn to Washington for Rui Hachimura, who is fitting in well so far as a wing option. Los Angeles also took a swing at acquiring Kyrie Irving, but Brooklyn sent the controversial guard to Dallas.
Toscano-Anderson and Jones played almost no role after joining the Lakers in the offseason.
___
FOX 11's Kelli Johnson and AP Sports Writer Dave Campbell in Minneapolis contributed to this report