Russell Westbrook, Patrick Beverley eligible to receive rings if Lakers win championship
LOS ANGELES - The Los Angeles Lakers are one win away from going to the Western Conference Finals and if they go on to win the franchise's 18th NBA title, you may be surprised who is eligible to receive a championship ring.
PREVIOUS COVERAGE: Lakers hold off Warriors, take commanding 3-1 series lead
The Lakers had a shaky start to their season and had a 27-32 record at the All-Star Break. The front office took care of business and made trades to find players that would better complement stars LeBron James and Anthony Davis.
Russell Westbrook, Patrick Beverley, Juan Toscano-Anderson, Damian Jones, and Kendrick Nunn were traded to other teams throughout the league in exchange for D'Angelo Russell, Malik Beasley, Jarred Vanderbilt, Rui Hachimura, and Mo Bamba.
RELATED: NBA trade deadline: LA Lakers part ways with Russell Westbrook, Patrick Beverley
The moves were evidently well worth it. The Lakers ended the season with a 43-39 record, advanced to the playoffs after winning a play-in game against Minnesota, and shut down Memphis in the first-round series.
Now, they continue to exceed expectations and are up 3-1 in the semifinals against Golden State, the defending NBA champs.
"If the Lakers were able to win the whole thing…. I was told by a high-ranking source within the organization that they would extend a championship ring to all players who were on the roster at any point during this season," TNT's Chris Haynes reported.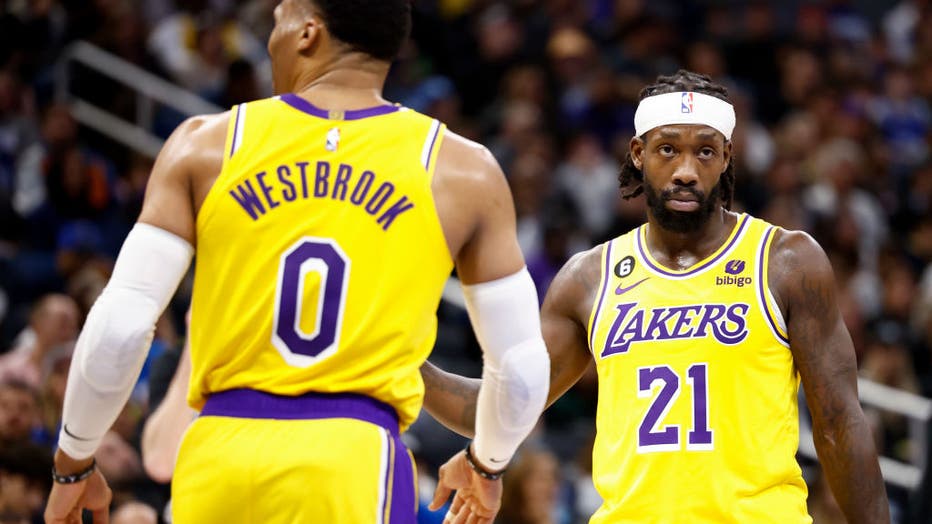 "So, that means if the Lakers win the whole thing, Russell Westbrook, Patrick Beverley, and others will receive a championship ring," he clarified.
Haynes added it was a policy that was implemented under Rob Pelinka, who serves as the Lakers' vice president of basketball operations. Pelinka was named as the team's general manager in 2017 and was promoted to his current position in 2020.
Westbrook and Beverly are now unrestricted free agents. Westbrook had a career resurgence with the LA Clippers and was sensational in the playoffs, proving he has plenty left in the tank. Meanwhile, Beverley last played for his hometown Chicago Bulls.