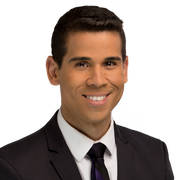 Mario Ramirez is a reporter and fill-in anchor for Good Day LA from 4:30-10 a.m. He previously worked for WCPO in Cincinnati, Ohio as a morning reporter. He's covered a wide range of topics from the 2012 Presidential election to the Southern California wildfires. Mario began his on-air career in 2010 when he was hired as an evening anchor at WGXA. Almost three years later he made the move to Cincinnati and quickly began filling in on the anchor desk, in the traffic department, and in the breaking news center. Ramirez was the only local reporter to break the news on the discovery of three Cleveland girls that had been missing for a decade while working in the Midwest. Mario started his journey with the FOX family while studying Broadcast Journalism at the University of Nevada Las Vegas. He interned at KVVU-TV where he grew up watching the local FOX affiliate. He was born in Brooklyn and moved west with his family as a young boy.
The latest from Mario Ramirez
Firefighters are battling a three-alarm vegetation fire in Riverside. 
A 65-year-old man died rushing to save his neighbors and three remain hospitalized after a house fire in Sunland late Wednesday night, said officials. 
One person is behind bars after a person riding a scooter was fatally struck in the Fairfax neighborhood of Los Angeles late Thursday night, said police.