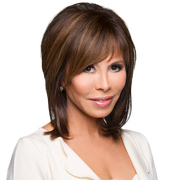 Laura Diaz joined FOX 11 KTTV and KCOP in May 2012. For more than two decades, Diaz has anchored, reported and produced for several flagship Los Angeles stations. She is a 14-time Emmy Award winner. After working in San Luis Obispo and Fresno fresh out of college, Diaz returned home to Southern California to work as a reporter and anchor at KABC and eventually KCBS. Diaz was born in Santa Paula and raised in Santa Clarita. She graduated from William S. Hart High School and earned a Bachelor of Arts degree in English from Cal Poly San Luis Obispo.
The latest from Laura Diaz
On a Sunday afternoon in November, the most unlikely of choir practices was taking place at the Newhall Family Theatre in the center of town.
There was a standing ovation for the newly elected president of the US Bishops on Tuesday in Baltimore. It's a story national in scope, but with Archbishop Jose Gomez's ascension, it was also a local story. Gomez leads the sprawling Archdiocese of Los Angeles, which is the largest Catholic Archdiocese in the nation. His new role signals the future direction of the American Catholic Church. 
Award-winning actress Angela Bassett opened up and spoke about her experience being assaulted by her mother's then-fiancee as a little girl. 
Earlier this week, FOX 11's Laura Diaz sat down with greatness — 99-year-old Sam Folsom is a distinguished World War II vet. Folsom recounted his military service in vivid detail and called it "the cornerstone of my life... still." 
A few weeks ago, FOX 11's Laura Diaz set out to get a glimpse of what life would be like for actress Felicity Huffman who was newly incarcerated at the Federal Correctional Institution in Dublin. 
Year after year they arrive and place the name of their loved ones on the "The Wall Las Memorias" Monument in Lincoln Park.
There is a quiet celebration going on in East Los Angeles this month.
There's new personal family details about the life and death of a Chargers linebacker.
After a 10-day manhunt, rogue cop Christopher Dorner is cornered in a cabin in the popular resort community of Big Bear, California.